'You People' Kiss With Lauren London And Jonah Hill Was Reportedly Fake Thanks To CGI
The studio has yet to confirm if the lip lock was not real.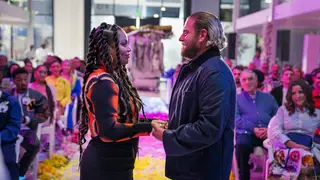 In the new Netflix film You People, a costar alleges Lauren London and Jonah Hill did not kiss during the wedding scene at the end of the movie.
Costar Andrew Schulz shared the information on his podcast The Brilliant Idiots with co-host Charlamagne Tha God and guest Nyla Symone.
"There's a hilarious thing— I don't even know if I should share this s***, but the final scene, they don't even kiss," Schulz said during the episode. "It's CGI. Swear to God."
Schulz said he was present for the scene where Hill's Ezra and London's Amira marriage scene, in which he witnessed the actors never lock lips, which led Schulz to believe that there would be a cutaway in the scene.
"I'm there, and I'm watching the wedding, and I see them go in for the kiss, and their faces stop like this far, and I'm like, 'I wonder how they're going to play that in the movie, they'll probably just cut right there,'" he explained. "But [in] the movie, you could see their faces come close, and then you can see their faces morph a little bit into a fake kiss."
Directed and co-written by Kenya Barris, the movie follows Hill and London's characters, who ultimately fall in love but when the pair head to meet one another's parents Akbar (played by Eddie Murphy) and Fatima (played by Nia Long) as well as  Shelley (played by Julia Louis Dreyfus) and Arnold (played by David Duchovny), they are both in for a surprise.
You People is currently streaming on Netflix.