Rachel Dolezal Claims Her OnlyFans Account Is A Tribute To Rihanna's Savage X Fenty Lingerie Line
Chile, don't bring RihRih into this mess.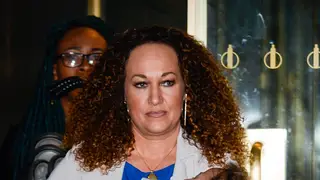 The discovery of Black woman impersonator Rachel Dolezal's, now Nkechi Amare Diallo, OnlyFans account left the internet shook on Monday. Still, the 44-year-old disgraced educator doubled down on the foolishness by saying Rihanna's lingerie line inspired the subscription-based website.
TMZ confirmed that Dolezal reportedly wanted to show love to the "Man Down" singer and give her subscribers something to look at.
Reactions to the weird, attention-seeking flex were hilarious.
On September  26, Dolezal's leaked nudes and OnlyFans account had the internet abuzz.
Sis2Sis exclusively reported​​ that the transracial woman had launched the OnlyFans site and had 443  uploads. Pride nor shame have stopped Dolezal from seeking the spotlight.
Dolezal's OF bio reads, "Welcome to my 🔹OnlyFans🔹 page, where I post creative content and interact with fans more than on any other platform. Subscribers get to see how my sensual side pairs with my creative spirit through intimate images inspired by color, light, and lingerie on the weekends. Thanks for joining my OF Crew! I welcome feedback & hope you enjoy my content. ❤️"
While the delusional woman has been all the things, including a braider, "civil rights leader," artist and panelist–  the OnlyFans account is her latest hustle.
In 2015, Dolezal's parents outed her as a white woman while she served as the president of a local NAACP chapter. In 2016,  she changed her name to Nkechi Amare Diallo to escape the embarrassment of her shady past and to be able to find work.
She continues to identify as Black, but nobody buys it. Rihanna has not commented.