Opinion: Usher's Super Bowl Show Will Prove the Young Doubters Wrong
The multi-platinum-selling artist's headlining of the 2024 Super Bowl Halftime Show highlights an illustrious career, inviting younger fans to discover and old fans to reminisce.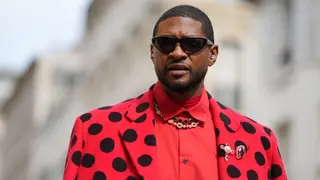 As some of the younger occupants of the internet are currently learning, you cannot play about Usher Raymond without at least two generations coming virtually for your neck.
Please count me in that number.
Shortly after being announced as the headliner of the 2024 Super Bowl Halftime Show, Usher sat down with Apple Music 1's Zane Lowe to promote the February 11, 2024 performance.
"It is definitely going to be a moment to remember," Usher told Lowe from Paris, where he is doing a brief residency at La Seine Musicale.
"This is the most grand stage to every play on," he added. "It's been on my bucket list for a long time. I've been asked many a time, 'What are the benchmarks? What are the things that matter the most to you?' Being able to perform on that stage, because so many amazing performers throughout the years have graced it and done an amazing job."
Many of Usher's fans – notably people in my demo, very vocal millennials – have wondered for years why Usher hadn't been asked to perform the halftime show.
Especially when compared to some of the other artists with less sales, fame, and ability that have been asked.
Since striking their partnership with the NFL to produce the Halftime Show in 2019, Roc Nation has selected Shakira and Jennifer Lopez, the Weekend, a hip hop-themed showcase featuring Dr. Dre, Snoop Dogg, Eminem, Mary J. Blige and Kendrick Lamar, and Rihanna.
Usher said JAY Z himself called him with the news.
"But when I got this call… he said, 'It's time, it's magic time. You know, it's time for you to have that moment.' I'm like, 'What are you talking about?'" Usher recalled. "He's like, 'The Super Bowl.' I'm like, 'Oh, you ready? Absolutely.'"
As many of us celebrated the selection, some questioned whether or not it was the right decision.
One tweet that stuck out the day of the announcement was posted months before the choice but has since been revisited on Twitter and every other social media app where you can dunk on someone for having a terrible opinion.
They said: "I know y'all think Usher should perform the next SB but I don't think he has enough pop/hip-hop hits."
Following being immediately cussed out by Black people, she followed with:
"Y'all are being intentionally obtuse. Not R&B. Pop. Crossover hits. He doesn't have enough *pop* hits for a *13* min medley performance. It'll be ok. That's not a diss to Usher the artist. Bc you don't think they would've considered him? Beyoncé would be a better choice."
"Beyoncé would be a better choice" is my usual ministry, but even Beyoncé would support Usher.
If I can stan for a bit, Usher has nine No. 1 singles.
I will acknowledge there are two I could do without, but the point is that they're hits and can fill a 13-minute block.
As for the nitpicky debate of what constitutes pop versus R&B, if the underlying emblem of pop is crossover success, Usher, designated as Billboard's biggest male artist of the 2000s, fits that.
This takes me back to when Justin Timberlake, who admittedly had a fantastic debut album, was celebrated as the next King of Pop despite Usher selling more.
In addition to the hits, Usher has several multi-platinum selling albums, including his 2004 offering, Confessions, which sold more than 1.1 million its first week before going on to be certified diamond, an award for albums that managed to sell 10 million units.
Regarding album sales, Usher's peers are Mariah Carey, TLC, Adele, Michael Jackson, and the Beatles.
Next year marks the 20th anniversary of Confessions and instead of debating whether or not he's not big enough, prep and learn some of the words of the hits.
This is only one opinion, but others chimed in with the same nonsense.
The doubting of Usher's stature has happened before this, anyway — particularly when it came to whether or not he would lose to Chris Brown in a Verzuz.
Much as I hate how intense some have gotten over what started as a pandemic singalong among peers and fans on IG, as talented and successful as Chris Brown is, Usher is Usher, and dimming his light would boost anyone else's.
In fairness to the uninformed who fail to Google before publicly criticizing R&B legends online, I understand that most of them are younger and, presumably,  judging him by the 2010s when he picked that glow stick.
That hit, "OMG!" will surely get some space at the Super Bowl as it's his last biggest hit, but I worried at the time if the EDM era might cloud his legacy with some audiences.
Regardless, there has been a noticeable campaign in recent years to remind people what a big deal Usher is.
From his sold-out Las Vegas residencies at the Coliseum at Caesars Palace and the Park MGM to his viral NPR Tiny Desk concert, his timeless catalog is getting the recognition it deserves.
Following the Halftime Show performance, Usher will also release his ninth album, Coming Home, and reportedly launch a global tour.
It's his own kind of renaissance and it is well earned and deserved.
For those unfamiliar with Usher's legacy, hopefully, the show introduces them to the star so many love already.
Also, it shows younger viewers what can happen when there is a budget at the label for A & R, dance class, and vocal lessons. After that, those who talked slicker about Usher will apologize to the legend and his fans — your parents, aunts, uncles, and big cousins.