Capitol Police Investigating Rep. Jamaal Bowman For Pulling Fire Alarm
The New York Democrat says it was a mistake, but Republicans warn that he may have violated a law.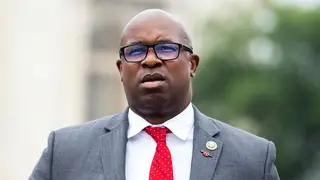 U.S. Capital Police announced an ongoing investigation Monday (Oct. 2) into New York Rep. Jamaal Bowman pulling a fire alarm Saturday morning (Sept. 30) as the House of Representatives prepared to vote on a funding bill to avert a government shutdown.
Authorities are examining "the facts and circumstances surrounding the fire alarm that resulted in the evacuation of the Cannon House Office Building."
Surveillance video captured the incident, but the police statement doesn't name Bowman as the subject of its probe.
Bowman, a Democrat, released a statement late Saturday (Sept. 30) apologizing for mistakenly pulling the alarm while attempting to open a door in the building as he rushed to arrive in time for the crucial vote.
"But I want to be very clear, this was not me, in any way, trying to delay any vote," the statement reads. "It was the exact opposite – I was trying urgently to get a vote, which I ultimately did and joined my colleagues in a bipartisan effort to keep our government open."
According to the police, a fire alarm sounded inside the Cannon Building at approximately 12:05 p.m. on Sept. 30. Officers responded and evacuated people from that building.
"On security video, a man was seen trying to exit the door in the Cannon Building and then pulling the fire alarm that prompted the evacuation. USCP officers had previously placed signs with clear language that explained the door was secured and marked as an emergency exit only," the statement read.
Some Republicans questioned Bowman's motive for pulling the alarm.
"Why he did that, it is pretty unclear. His initial explanation, that it was an accident, doesn't seem to really pass muster," House Administration Committee Chairman Bryan Steil of Wisconsin told CNN, adding that Bowman committed "a serious violation of the law" if he pulled the alarm to interfere with the vote.