Op-ed: Why Younger Voters Should Care About These Midterm Elections
A Howard student's take on why the midterm elections are proving to be especially crucial for the future of women's reproductive rights.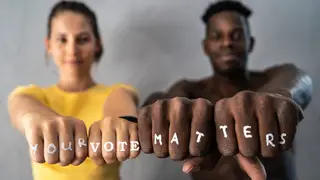 On Monday, November 7, BET News will present a special conversation with Vice President Kamala Harris in "State of Our Union: Reproductive Rights." This exclusive pre-recorded conversation will premiere at 9 PM ET/PT on BET, BET Her, MTV2, VH1, and POP and address the vital issue of reproductive rights and its impact on the Black community, particularly young Black women. The event, held in front of a live audience at Howard University, comes at a time when many in the country are questioning where elected officials stand on this issue particularly after the overturning of Roe vs. Wade earlier this year. One of those individuals is Howard University junior Ileya Robinson Williams who attended the event and believes her generation is the key to ensuring the protection of reproductive freedom.
---
More than 50 years ago, the 1973 Roe v. Wade Supreme Court decision transformed the conversation around abortion and reproductive healthcare by revoking states' rights to ban abortion. This landmark ruling led to an ongoing debate that continues today.
For the few decades that it was in place, Roe v. Wade not only preserved the right to an abortion but has allowed the procedure to occur safely and lawfully. Banning abortions in several states will not stop women from needing these life-altering services, but will instead create barriers that will lead undoubtedly to an increase in unsafe methods of pregnancy termination.
In May 2022, when a leaked U.S. Supreme Court opinion foreshadowed the overturn of Roe v. Wade, a social media storm began to brew. This rare decision would entirely disassemble decades of legal protection for women in this country. Though shocking for many, the news was more than predictable for others.
Out of 116 justices who have sat on the Supreme Court over 233 years, only six have been women. Even more tragically, the first Black woman was appointed just this year. Women of color especially are not made to feel protected in America, especially when they have no representation in the highest court of this nation.
On June 24, 2022, in a 6-3 decision, the Supreme Court officially overturned Roe v. Wade. A longstanding piece of legislation that has protected reproductive rights was ripped away in a moment, leaving women feeling vulnerable, confused, and abandoned. Young people are especially vulnerable to the negative impacts of this unfortunate outcome. College-aged students are juggling schoolwork, balancing a social life and various other responsibilities that they may take on. Now, young women are burdened with the fear of what may happen if they find themselves with an unwanted pregnancy. Many people have been forced to pay additional travel fees as they journey over state lines to gain access to legal abortions, and that is not without being berated and verbally abused by so-called "pro-lifers" outside of healthcare clinics.
The initial decision was met with a media frenzy, with much of the strong retaliation stemming from young people. This is expected, though, as Gen Z has earned its title as the "pro-choice generation." According to a Gallup poll, 71 percent of Americans aged 18-29 self-identified as pro-choice, compared to 46 percent of Americans aged 50-64.
In addition to online backlash, protests broke out all over the country. The fever was felt from Democratic states, such as New York and California, to red states like Texas and Alabama, where people came out in droves to show their disapproval of the Supreme Court decision. These protests further highlighted the obvious age disparity of public outrage regarding reproductive rights.
After the tumultuous and distressing Trump presidency, many young people are eager to see the tangible impact of their opinions by voting for the first time. Oftentimes, it is easy to feel powerless as a young Black woman. We must work twice as hard to be heard and 10 times as hard to be given the same opportunities, a reality of life that can feel draining and unmotivating.
However, abortion access has quickly become an empowering force in the community. As the normal news cycle ebbs and flows, the topic of reproductive rights is talked about less and less, but the upcoming midterm elections have given young people a new fire for the cause.
For college-aged students like myself, politics can sometimes fall into the background of our busy lives. I've learned that having power is important, but how we utilize that power is paramount. We have the chance to vote for candidates who are committed to protecting abortion access. We have the power to pave the path to our future.
---
Visit www.vote.org to find out what you need to vote in the midterm elections.