Vice President Harris Says She "Never Believed" Justices Would Protect Roe
Then-Calif. Senator Harris voted against the appointment of Justices Kavanaugh and Gorsuch to the U.S. Supreme Court.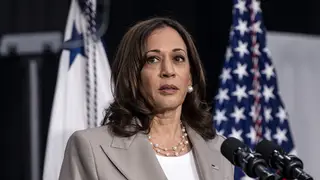 Vice President Kamala Harris says she "never believed" that the three justices appointed to the U.S. Supreme Court under then-president Donald Trump, were sincere when they claimed they would not overturn Roe v. Wade.
Speaking to CNN in an interview aired Monday (June 28), Harris said, "I didn't believe them. That's why I voted against them," when answering a question about her thoughts if Justices Brett Kavanaugh and Neil Gorsuch deliberately misled the public and Congress during their Supreme Court confirmation hearings.  "It was clear to me when I was sitting in that chair as a member of the Senate Judiciary Committee, that they were ... very likely to do what they just did. That was my perspective. That was my opinion. And that's why I voted like I did."
The vice president's comments were in response to the slew of U.S. Senators claiming they feel misled by the appointees of twice impeached Trump, who offered assurances that they would not overturn the 1973 court ruling that guaranteed American woman the right to obtain abortion care.
Maine Republican Sen. Susan Collins went public with her frustration that she feels misled by Kavanaugh, who she claims personally told her that he would not overturn Roe v. Wade, according to The New York Times.
Sen. Joe Manchin, the West Virginia Democrat who often votes with Senate Republicans, also claims to feel regret. The anti-abortion lawmaker who cast the sole democratic vote to confirm Kavanaugh told the Times,  "I trusted Justice Gorsuch and Justice Kavanaugh when they testified under oath that they also believed Roe v. Wade was settled legal precedent and I am alarmed they chose to reject the stability the ruling has provided for two generations of Americans."
The Los Angeles Times took a look at the senators who voted in favor of the justices who did away with Roe.  The headline 5 justices overturned Roe vs. Wade. 91% of senators confirming them were men underscores part of the divide over the issue. The LA Times reported, " In the Senate hearings for the five justices, 71% of the votes cast by women were against confirmation; 42% of male senators' votes were against."
In the CNN interview, Harris promised that "This is not over," when considering Justice Clarence Thomas' assertion that the court should revisit other cases of precedent that ensure rights related to same-sex marriage and contraception.
"I think he just said the quiet part out loud." Harris said.
President Biden, himself a Roman Catholic, has supported a woman's right to choose, and promises his administration will urge congress to act. After the reversal was reported, Biden remarked, "Let me be very clear and unambiguous: The only way we can secure a woman's right to choose and the balance that existed is for Congress to restore the protections of Roe v. Wade as federal law."
In a recent poll by The Hill, some 60% of Americans say they support abortion rights being left to the woman and her doctor to decide.  Despite Biden's promises to work on the issue, his administration has shown itself unable to marshal its Democratic majority in the House and tie-breaking vote in the Senate to pass other promised legislation.
However, it was just last week that the president signed into law the nation's most sweeping gun reform measures in decades, showing that the Biden Administration may be gaining traction when it comes to getting laws passed.