Ciara's Toddler, Win, Shines At White House While Promoting Vaccines For Kids
The singer's young son was a busy body while she fielded questions from reporters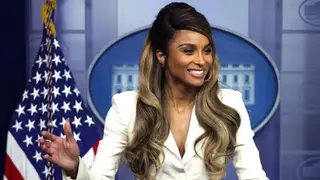 You'd think it would be hard to upstage a Grammy Award-winning, multi-platinum-selling recording artist like Ciara, especially in the highest office in the land, but that's exactly what happened when the "Goodies" singer took to the White House briefing room podium to promote COVID-19 vaccines for children Wednesday.
The culprit? Her 1-year old son, Win.
The 36-year-old was there with her three children for vaccine discussions and remained to field questions from reporters. When her youngest, Win, decided to get in on the action, he can be seen crawling around his mom's feet as she brilliantly multitasked parenting and informing the general public about potentially life-saving options for novel coronavirus.
The singer says she made the visit after First Lady Jill Biden's team reached out and asked her to help encourage vaccinations for children ages 5 to 11, as The Centers for Disease Control and Prevention approved Pfizer-BioNTech's COVID-19 vaccine for that age group earlier this month.
Among being a global superstar, Ciara makes a perfect candidate for this endeavor as her son Future, 7, who she shares with rapper Future Hendrix received the COVID-19 vaccine two days earlier. "I think the ultimate goal is to end this thing," she said.
"It was such an honor to join you to talk about vaccinating our youth," she wrote. "Let's end this pandemic together," she wrote in an Instagram post on Thursday.