Orlando Woman Allegedly Killed By 10-Year-Old Girl While Fighting The Child's Mother
The hostility reportedly stemmed from a social media post, but officials say it ended when a child took a gun from a bag her mother handed her.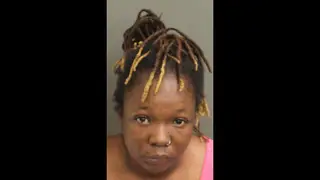 A violent conflict between two Orlando, Fla., women turned into a tragedy when one of them was slain at a Memorial Day cookout. But police say what makes it more unbelievable was that the alleged killer was the 10-year-old daughter of one of the women.
According to local station WKMG, a police affidavit released Tuesday says that Lashun Rodgers, 41, and her boyfriend were having a cookout at the apartment complex where she lived on Monday (May 31) when they were approached by Lakrisha Isaac, 31, and her daughter. Police say Isaac was intoxicated and, after handing her bag to her child, began to attack Rodgers. The boyfriend told the police he tried to break up the fight, but they continued. The girl then took the weapon out of the bag and fired two rounds at Rodgers, killing her.
The boyfriend told the police the girl said: "she shouldn't have hit my momma," after firing. He said he tried to help Rodgers, but Isaac took the gun from the child and pointed it at him. He put his hands up and went back into his apartment while Isaac and her daughter returned to theirs.

Another witness—who had spoken to Rodgers about the hostility between her and Isaac before the shooting but said she told her to go back to her apartment—gave police a similar story, saying she saw the fight and the shooting from inside her apartment. A third witness did not see the fight but said she did see Isaac take the gun from the girl and go back to their apartment.
In questioning the girl, police said she told them she was defending her mother. Earlier, Rodgers had physically assaulted Isaac and threatened to bring her family to jump on her, according to WKMG. Another witness said they thought Isaac had been hit in the head by Rodgers, leaving a cut, but police said they saw no such injury, according to the Orlando Sentinel. Isaac refused to speak to the police and requested an attorney.
RELATED: Tulsa Hospital Shooting Claims Five Lives In Latest U.S. Mass Gun Violence

The Sentinel reported that the conflict between the two women started over a social media post, but it is unclear exactly what their beef was, or how long it has been going on.

Orange County, Fla., court records show that Isaac was arrested and charged with manslaughter, aggravated assault with a firearm, negligent firearm storage, and child neglect. She faced a judge on Wednesday (June 1), and the bond was set at $1,500, according to records.
The girl was placed in the Florida Department of Children and Families' custody. Florida State Attorneys have yet to decide if any charges will be filed against her.

At a memorial at the apartment complex where Rodgers was killed, family and friends mourned her, bewildered by what happened.
"She didn't deserve it at all; she's not that type of person," Rodgers' cousin Amber Dozier told WKMG. "She [doesn't] get into that type of stuff."