The March on Washington Aims to Spark a New Civil Rights Movement
The 50th anniversary of the March on Washington will be a call to action to preserve civil rights gains.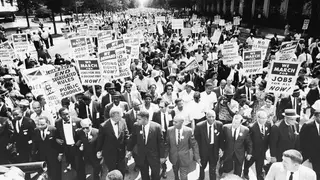 So much has changed in the 50 years since a quarter of a million Americans descended on the nation's capital to participate in the March on Washington for Jobs and Freedom.
The nation has twice elected an African-American president, a symbol of progress that in 1963 seemed unimaginable to most. A record number of Blacks across the country serve in political offices at all levels of government and there were more than 10 times as many Black college students in 2012 than in 1964.
But as one measures the dream outlined in the famous speech Martin Luther King Jr. delivered on the steps of the Lincoln Memorial in 1963, it is evident that there's so much more yet to be achieved.
In June, the U.S. Supreme Court eroded a key provision of the Voting Rights Act that became law two years after the march. Gun and gang violence has escalated, causing too many communities to live in fear. African-Americans are still feeling raw after the Trayvon Martin tragedy.
Wide economic gaps also exist. Black unemployment is nearly double the national rate. And according to a special Census Bureau report, homeownership at 43.4 percent in 2011, has barely budged from 41.6 percent in 1970.
So when hundreds and thousands of Americans convene to commemorate the 50th anniversary of the March on Washington over the next several days, it will not be merely to celebrate but to rally against voting rights attacks, racial profiling, "stand your ground laws," immigration reform and a host of other issues.
D.C. Rep. Eleanor Holmes Norton worked alongside Bayard Rustin, A. Philip Randolph, King and others instrumental in planning the 1963 event. Rustin, she told BET.com, insisted that "Jobs and Freedom" be included in the march's name because they seemed like attainable goals.
"The anniversary march unfortunately has goals that are not unlike those of the first march. The Voting Rights Act has been rendered virtually toothless. The jobs part of it is very much alive when you consider the disparities in income, particularly among African-Americans who've suffered grievously from the so-called Great Recession," Norton said. "This cannot be seen as a commemorative march; it is the march updated for the issues of today."
The Aug. 24 "Realize the Dream March and Rally" is expected to draw the largest crowd. Speakers will include civil rights icon Rep. John Lewis and other members of Congress, Attorney General Eric Holder, Newark Mayor Cory Booker, members of King's family and the families of Emmett Till and Trayvon Martin and others.
On Aug. 28, President Obama will deliver remarks from the same spot on the Lincoln Memorial that King delivered his speech. He will be joined by former Presidents Bill Clinton and Jimmy Carter, and other political and cultural leaders.
"After all the speechifying, marching, congratulating and media sound bites, we must begin organizing: march, support legislation, hold town hall meetings, dominate these talk shows and file law suits," said California Rep. Maxine Waters. "Let us stop thinking somebody else is going to do this for us. We can do this for ourselves."
BET Politics - Your source for the latest news, photos and videos illuminating key issues and personalities in African-American political life, plus commentary from some of our liveliest voices. Click here to subscribe to our newsletter.
(Photo: Hulton Archive/Getty Images)