Wisconsin Senator Ron Johnson Walks Back Demand to Repeal Obamacare
Johnson's comments to do away with the Affordable Care Act got swift backlash and caused the Senate Minority Leader to weigh in.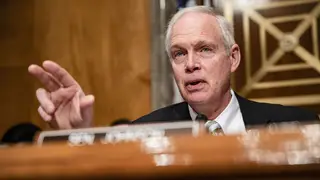 Wisconsin Sen. Ron Johnson appeared on a conservative radio talk show saying he wants to see the GOP repeal the Affordable Care Act if his party wins the White House and the House and Senate majorities in 2024. The Washington Post reported the comments made on Breitbart News Radio, where Johnson stated that the GOP plans to obstruct all measures from the Biden Administration and other Democrats until Republicans win the majorities in the House and Senate.
House Speaker Nancy Pelosi criticized Johnson saying, "Here we go again: even in the wake of a pandemic, the GOP just can't quit their obsession with ripping health care away from Americans with pre-existing conditions."
In 2018, Democrats were able to retake the House by focusing on Republican efforts to take health security away from tens of millions of families. Nonetheless, Johnson recanted.
Ron Johnson released a statement on his website walking back his demand to repeal the Affordable Care Act. It reads, in part:
"During a radio interview I used our failure to repeal and replace Obamacare as an example of how we need to be prepared to deliver on whatever agenda items we decide to run on. I was not suggesting repealing and replacing Obamacare should be one of those priorities. Even when we tried and failed, I consistently said our effort should focus on repairing the damage done by Obamacare and transitioning to a health system that works. I reiterated the necessity to fix our healthcare system in that interview and COVID-19 has exacerbated these failures. We have all seen disastrous results of President Biden's policies which include his pointless and divisive vaccine mandates, forced firings that caused worker shortages, and the lasting damage to our healthcare system and nation.
"Today's false attacks against me are just more desperate attempts by President Biden, Speaker Pelosi and their allies in the media to distract from the failures of their governance.  As usual, they are falsely claiming I made statements I didn't make and the liberal media are dishonestly reporting their false claims. It's hard to keep track of all of their lies. I intend to focus on issues that most people are concerned about and will continue to expose the failures of Democratic governance and the harm they are causing Wisconsinites."
Senate Minority Leader Mitch McConnell last week publicly rejected a proposal from Rick Scott of Florida, who released an 11-point "Rescue America" plan that would require all Americans to pay income tax, do completely away with the U.S. Department of Education, build a border wall, and declare that there are only two genders. Scott's plan said nothing on the health care issue.  And McConnell expressed that he won't base the proposals on what GOP members propose on radio shows. The Washington Post reported McConnell as saying, "If we're fortunate enough to have the majority next year, I'll be the majority leader. I'll decide in consultation with my members what to put on the floor."