State Prosecutor Dropping Sex Abuse Charges Against R. Kelly
'Justice has been served,' says Cook County State's Attorney Kim Foxx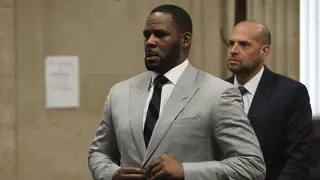 A Chicago prosecutor announced Monday (Jan. 30) that she plans to drop sex-abuse charges against R. Kelly, saying that her office believes "justice has been served" after the R&B singer's lengthy prison sentence from a federal conviction.
Chicago station WMAQ reports that Cook County State's Attorney Kim Foxx explained at a news conference that her office also considered the high cost of prosecution and limited resources as additional reasons for her decision.
In 2022, a federal court in New York sentenced Kelly, now 56, to a 30-year prison sentence  after a Brooklyn jury found him guilty of racketeering and sex trafficking of underage girls and women.
In the meantime, Kelly awaits sentencing on Feb. 23 in Chicago federal court after a federal jury convicted him last year of producing child pornography and enticing girls for sex.
"While today's cases are no longer being pursued, we believe that justice has been served in the sentences that have already been handed down to Mr. Kelly, as well as the sentence that will come down next month," Foxx said, according to WMAQ.
She planned to notify Judge Lawrence Flood of her decision to drop 10 counts of aggravated criminal sexual abuse against Kelly at a hearing on Tuesday (Jan. 31), the Chicago Sun-Times reports.
According to the Sun-Times, Foxx's decision is unsurprising because the federal cases against Kelly involved many of the same alleged victims and Kelly's defense has pressed her to drop the charges.
Foxx's office alerted the alleged victims of her decision before the press conference but noted Monday that one of them didn't have her day in court. The hair stylist, identified in court documents as "L.C." is Lanita Carter, who alleges that Kelly sexually assaulted and spit on her in 2003 while braiding Kelly's hair at his home.
Carter said she was "extremely disappointed" by Foxx's decision.
"I have spent nearly 20 years hoping that my abuser would be brought to justice for what he did to me. With today's announcement, all hope of justice for my case is gone," Carter said, according to the Associated Press.
Carter said she came forward and trusted prosecutors with her story, and she prepared herself over four years to confront Kelly in a courtroom.
"Justice has been denied for me," she added.
Kelly's attorney, Jennifer Bonjean, was "pleased" with Foxx's decision to drop charges, the AP reported. In the meantime, he's appealing his New York and Chicago federal convictions. If those convictions hold, the disgraced singer would be about 80 years old when he's eligible for release.
"He only has one life to give. So I don't know how many sentences upon sentences would satisfy people," Bonjean said.