Protesters in Miami Demonstrate Against Florida's Black History Teaching Policies
The state's controversial curriculum standard 'will not be tolerated in our schools,' the protest organizer told the crowd.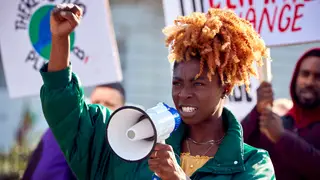 Protesters gathered Wednesday (Aug. 16) at a Miami school district headquarters to voice outrage over Florida's new standard for teaching Black history. Opponents of the curriculum say it is an attempt to whitewash America's racist past.
The Associated Press reports that about 50 protesters marched a mile from Booker T. Washington Senior High School to join another 50 demonstrators at the school board building.
Under the new curriculum guidelines, which the state education department approved on July 19, teachers must instruct students that slaves learned skills that "could be applied for their personal benefit" and that racial violence was perpetrated "against and by" Black Americans.
"These new state standards that [Gov. Ron] DeSantis has come up with will not be tolerated in our schools. We will not let our children be taught that slaves benefited from their slavery. That's a lie," march organizer Marvin Dunn, a professor emeritus of psychology at Florida International University, told the crowd, according to the AP.
Tennessee Rep. Justin Pearson attended the rally. The Black lawmaker rose to political stardom after state House Republicans voted to expel him and fellow Black Democrat Justin Jones from office in April for leading a gun control protest on the House floor. They were both re-elected to office on Aug. 3.
"The true history is that Black people have always fought to make America what it ought to be, and it has always resisted what it could be," Pearson told the protesters, according to the AP. "We've always fought for the America that we know is possible. That is not here yet."
DeSantis has doubled down in his defense of the controversial teaching standard despite the backlash from the Biden administration and Black Republicans.
Vice President Kamala Harris has sharply criticized the new curriculum. "They dare to push propaganda to our children. This is the United States of America. We're not supposed to do that," Harris said at a July 21 event in Jacksonville.
DeSantis' 2024 GOP presidential primary rival Sen. Tim Scott, the U.S. Senate's only Black Republican, also condemned Florida's new teaching standard.
"What slavery was really about [was] separating families, about mutilating humans and even raping their wives," he added. "It was just devastating. So, I would hope that every person in our country — and certainly running for president — would appreciate that."
Florida's Black leaders have said the Black history teaching standards are part of DeSantis' larger agenda.
The governor made headlines in January when the state's education department prohibited public high schools from offering Advanced Placement African American Studies. These two moves align with rules he pushed through the GOP-controlled legislature. The rules include his Stop W.O.K.E. Act — which bans lessons in K-12 classrooms and colleges that could make (White) students feel guilty for racial oppression and prohibits topics like White privilege.