15-Year Old Chicago Teen Shot 24 Times After Buying Snacks
Sincere Cole was described as hardworking and creative, but became the latest victim of violence in a city that continues to struggle.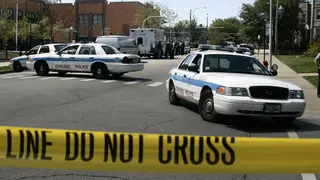 Sincere Cole's family is looking for answers and calling on the community to come forward with information after the 15-year-old was shot 24 times and killed in Chicago.
According to local station WGN, Cole was shot near a Shell gas station in the Chicago Lawn neighborhood on Saturday (Feb. 12) after purchasing snacks and refreshments. Chicago Police have, at least initially, declined comment and no witnesses have yet come forward with any info about potential suspects.
Brandy Martin, Cole's aunt and legal guardian, spoke at a press conference on Tuesday, pleading for someone to come forward with information about her nephew's homicide. She also laid out the other personal tragedy she's had to endure over the past few years, including Cole's mother's tragic death after being struck by a Chicago Transit Authority train in 2019 and her 22-year-old daughter's murder that same year, which has since gone unsolved.
"I've got to stand up here and scream from inside out and make sure I get the word out so he won't be another name, another number, another tag," Martin told reporters Tuesday. "Don't forget about us because we're put in areas that (are) low income."
The Faith Community Church of Saint Sabina is currently offering a $5,000 reward to anyone with information that could lead to a suspect's arrest.
"He's got siblings who are hurting. He has a father. I am pleading for help from my city to bury my nephew," Martin said. "We need help, we need grief counseling."
Martin described Cole as a creative child who was an "ambitious" entrepreneur.
"Standing at the gas station pumping people's gas to make money; it's better than knocking an old lady in the head for her purse," she said. "He didn't have to die."

According to figures released daily by the City of Chicago, so far in 2022 there have been 74 homicides, 47 within the last 28 days, and 8 were juveniles. Much of the violence have been concentrated in areas on the South and West sides of the city.