British Prime Minister Slams Donald Trump For Tweet Suggesting Police Knew About The London Bomber Suspect
Theresa May said it's not helpful for anyone to speculate about the attack.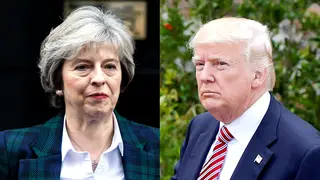 After Donald Trump tweeted speculative remarks about the terror attack on a London Tube train, Prime Minister Theresa May slammed the president for making public assumptions.
After the attack in London on Friday, Trump tweeted about "another attack" and suggested the suspect involved in the bombing was "in the sights of Scotland Yard," the UK's Metropolitan Police Service.
Prime Minister May then criticized Trump and his comment on the attack at the Parsons Green underground station.
"I never think it's helpful for anybody to speculate on what is an ongoing investigation," May told Sky News.
Hours after the explosion, which left at least 22 people injured, Trump tweeted suggested we cut off the internet to stop radical terrorism. 
During a press conference outside the White House, Trump called the attack a "terrible thing" and said that governments are not being "nearly tough enough" on terrorists.
In addition to rebuking Trump's categorization of the attack, the prime minister also condemned the "cowardly" attack, which she said was "clearly intended to cause significant harm."
"The police and the security services are obviously doing all the work to discover the full circumstances of this cowardly attack," May told Sky News.