Halle Bailey Announces $10,000 'Angel Scholarship'
The initiative is aimed at helping young Black women in performing arts.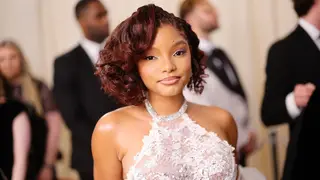 Grammy-nominated singer and songwriter Halle Bailey has just unveiled her "Angel Scholarship" to support Black women in performing arts.
On Thursday, (Sept. 27), the 23-year-old star of Disney's "The Little Mermaid" took to social media to share details about this new initiative, revealing that four young women will each be awarded $10,000 to assist in furthering their education in the performing arts.
She expressed her gratitude in her post, saying, "Thank you for supporting #angel and helping to fulfill the dreams of these incredibly talented young ladies." She also encouraged her supporters to "stay tuned" for more updates.
The "Angel Scholarship" was established in honor of Bailey's debut solo record of the same name, "Angel." This piano and harp-led ballad delves into Bailey's personal experiences as a Black woman in the public eye.
The scholarship recipients are expected to be announced Thursday.