100 Percent of Urban Prep Academy Seniors Going to College
Chicago's Urban Prep Academy, an all African-American student body, will be sending 100 percent of its seniors to college for the fourth year in a row.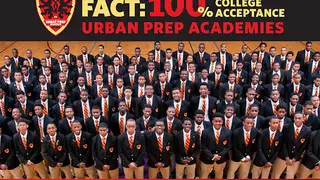 Urban Prep Academy's faculty and family were joined by Chicago Mayor Rahm Emanuel on Thursday afternoon to celebrate their 167 seniors who are all college-bound.
On Thursday, the last seven of the 167 young scholars underwent the rites of passage and were handed their new ties. This moment solidified Chicago Urban Academy's fourth consecutive year in graduating 100 percent of their all African-American male student body and sending them to college. 
The Chicago academy has a tradition of changing their students' red ties to red and gold striped ties to symbolize that they have received college acceptance letters, according to the Chicago Sun Times:

"At Urban Prep, college is not a dream, it's a reality," co-founder and CEO Tim King said. "College acceptance is the new black."
Indeed, the combined senior class of 167 racked up a total of $6 million in grants and scholarships to some 125 unique colleges. Two students were accepted to 20 schools each. Two others account for more than $600,000 each in scholarship offers from all of the schools they got into.
"Let us start celebrating as a city the kids who graduate and make it to college," the mayor said in the gym of the Englewood campus, 6201 S. Stewart, just as the city celebrates big sports championships.
Emanuel, who's been praising Urban Prep as far back as his inaugural address, cheered the students for being accepted into so many institutions and racking up tons of scholarships, but said the numbers of colleges and grants couldn't speak to the obstacles the young men overcame.
"None of those numbers match the 100 percent graduation or 100 percent college acceptance rate," Emanuel said. "What this 100 percent proves is it need not be the exception but it should be the expectation for every child in the city."
The 100 percent, though, only pertains to the school's students who made it this far. The senior classes started out much larger as freshmen. West Campus's first ever senior class of 76 began high school four years ago with 125 freshman, according to CPS enrollment figures. Englewood Campus shows similar trends, with 91 seniors starting freshman year as 172 strong, according to the same data. In 2012, the school had 65 percent of freshman graduating within five years, according to CPS data, better than the district's 61 percent average.

BET National News - Keep up to date with breaking news stories from around the nation, including headlines from the hip hop and entertainment world. Click here to subscribe to our newsletter. 
(Photo: Courtesy of Urban Prep)