Sterling K. Brown Wants Black Families To Consider Therapy As A Way To Get Through The Pandemic
The "This Is Us" actor found professional help for his family to manage all the emotions created by 2020 and lingering into 2021.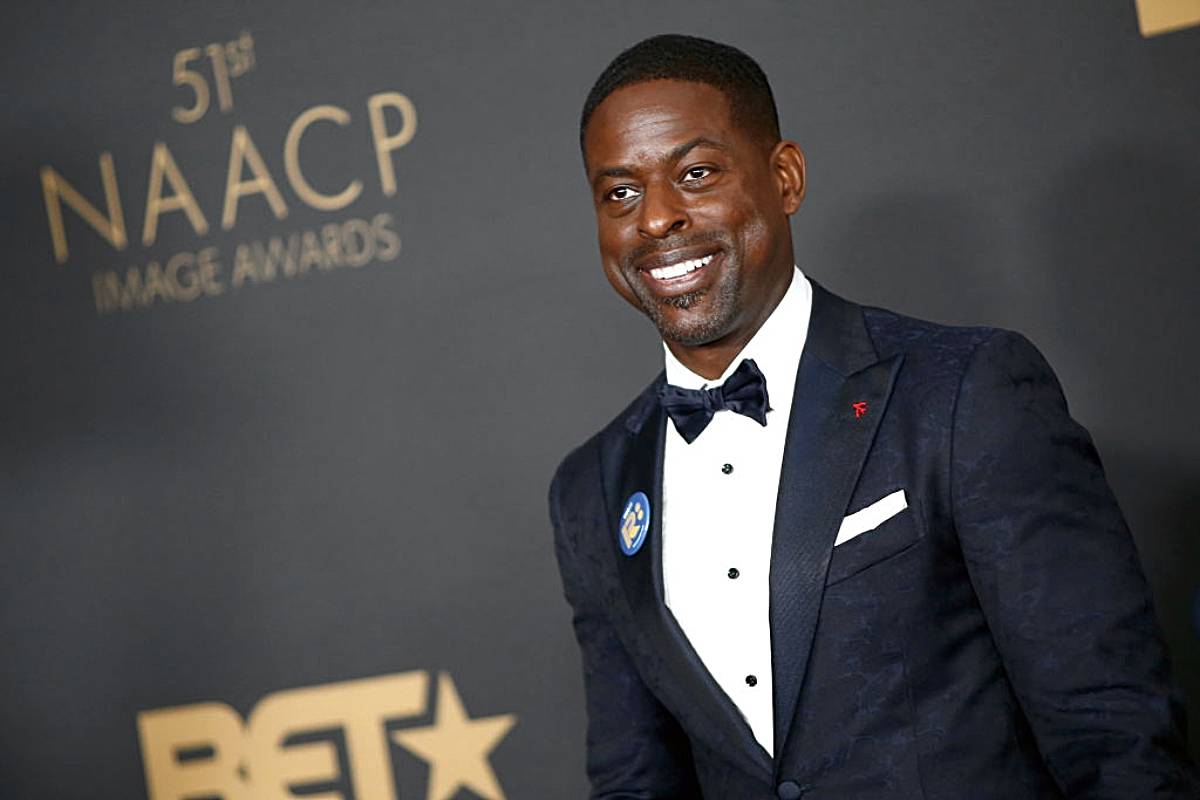 Emmy, Golden Globe, and Screen Actors Guild Award winning actor Sterling K. Brown, like so many of us, had moments last year where he had to reconcile feelings of anger, isolation, and sadness. Whether it was pandemic, the incessant examples of racial violence or the strife of politics, Brown and his family were in the thick of it. Instead of wallowing, Brown, his wife, actress Ryan Michelle Bathe and their children found ways to manage through their emotions with some professional help. It's an approach his character, Randall Pearson, is also using on the hit NBC drama, "This Is Us."
Brown talked to BET.com about the importance of explaining Randall's desire to seek out a Black therapist, how his family is coping through the pandemic, and how he's using a partnership with Bose to fasciliate his mental health journey.
BET.com: Looking through some of your social media posts in 2020, like all of us the global pandemic and racial unrest appeared to be really affecting you. You referenced feelings of sadness and isolation. Can you tell us more?
Sterling K. Brown: The most profound feeling I had in the midst of a global pandemic was that, for some reason I thought that racism would take a break. I thought we would be focused on this other virus, COVID-19. That maybe the virus of hatred and oppression could possibly press the pause button. Then in immediate succession I heard and saw what happened to Ahmaud Arbery, Breonna Taylor, and George Floyd.
There was such... anger, confusion, to the sustainability of hatred in the midst of something else going on. Then there was this interesting thing where the world, collectively by virtue of not having the distraction of entertainment or sports, realized this is not right; this is crazy. People sort of knew it intellectually, but there seems to be a very powerful tangible feeling in the world, which I was encouraged by.
BET.com: You're a Black man on a show with Black children. In many ways you were experiencing these emotions in real-time and likely reexperiencing them on set. Was filming this season cathartic for you?
Brown: It was and continues to be because I am cognizant of our audience. We have a diverse audience, but it is a network television show in primetime on NBC. I know a lot of the homes we come into are White. By virtue of their exposure to our family they may be able to expand the way they see people. I think that's what media does. Our experiences shape our perspective of the world in which we interact. I love the fact that Randall is a vulnerable, real human being. He is a Black man, but he is a human being. Hopefully folks can recognize his humanity.
It's cathartic and healing for me to think that hopefully when people watch the show and they see the Pearsons, all of the Pearsons, and the Black Pearsons in particular, that our humanity is first and foremost. Maybe the next time they see somebody who looks like me, they can lean in instead of leaning away.
BET.com: Randall's journey and specifically his seeking help through a therapist is a powerful message. Do you think it's helping to destigmatize the notion of therapy in our community?
Brown: I want the message to be that it is fine to seek out help. The idea that you have to build up your armor so that you can persevere, hopefully is not something we will need to be maintain and perpetuate into the future. I feel like as a people, we are so heavily armored because we've had to be historically. If you allowed all the slings and arrows of outrageous injustice to pierce you, it would be too much.
But there is a healthy way, a conduit through which to process what you're going through and sharing that information with a professional can be healing.
BET.com: In this season Randall decides to move on from his White therapist in order to find a Black therapist. Do you see that decision having an impact?
Brown: When someone looks like you and shares something in common with you, your desire to open yourself up to that person goes up. It doesn't mean you have a distaste for anyone else. But when someone looks like you, you have to be comfortable. Therapy doesn't work if you're not comfortable sharing your full self with that person.
Sometimes you have to take an honest assessment and ask, 'Am I being authentic in this space and if I'm not, where can I find a space where I can be?'
It was a really wonderful moment for Randall to be perfectly honest with himself and say this is important to my healing and that I know that there's an even better way for me to exist in this space. I applaud him and the writers for allowing him to reach that moment of clarity.
BET.com: In your life, how do you talk to your kids about the importance of seeking help?
Brown: We have a family therapist whom I will meet with on my own. My wife and I will meet with our therapist together. Sometimes in the midst of COVID, homeschooling, and trying to get my boy not to play Fortnite all the time, there will be a session with the therapist and just the two of us.
There was a moment where my son felt as though he was experiencing anger issues and I said let's go talk to somebody about it. I love that he gets to grow up, hopefully with the demystification that therapy is just something you do. It's not a sign of weakness, it doesn't mean you're incapable in and of yourself. This is just another way to be and manifest your best self. It's a mainstay in the Brown household throughout the pandemic, continues to be so, and I'm grateful for it.
BET.com: I know you're a champion of effective and efficient sleep. You've partnered with Bose to help you in that regard. How do they help you be the best version of yourself?
Brown: Working with Bose and getting comfortable with these noise-masking sleepbuds is great. I have two boys, a wife, a puppy, etc. Sometimes I have a 5:00 a.m. call time and I know I need to get my butt to sleep. I pop them in my ears and sort of drift off. They are comfortable, lightweight, they don't stick out or fall out during the night.
With the heightened level of anxiety the world has been experiencing, sometimes carrying all that to bed and trying to figure out how to let it go was hard. Honestly, the sleepbuds helped me to let go, let God, and take my Black ass to sleep!
BET.com: You're a pretty funny guy. Are there any comedic projects on the horizon?
Brown: There's always the possibility of a return to Maisel (Amazon Prime's "The Marvelous Mrs. Maisel"). Hopefully, it's possible in the midst of COVID. I'm keeping my fingers crossed for that. Also, through my production company (Indian Meadows) I'm working on producing a couple of different buddy comedies like "Beverly Hills Cop," which was one of my favorite things growing up. There are things in the pipeline that I'm hopeful for in the future.           
Watch Sterling K. Brown weekly as Randall Pearson in NBC's hit drama, "This Is Us" Tuesdays at 9:00 pm EST/8:00 pm C on NBC.