This Week In Good Black News: Jamie Foxx Is Recovering, Lizzo Takes A Stand For Drag Queens And Halle Bailey Celebrates Her 'Little Mermaid' Doll
Plus, a 12-year-old goes viral for singing at his parents' vow renewal ceremony.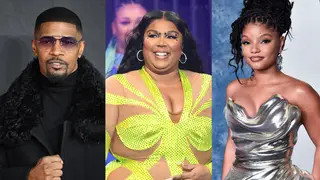 Joy was in the headlines this week. From Jamie Foxx on the mend after a "medical complication" to Lizzo advocating for drag queens to Halle Bailey continuing to shine, there were definitely stories that warmed your heart. Check out This Week In Good Black News. 
Lizzo Celebrates Drag In Tennessee

Tennessee is waging a political war on drag queens, attempting to ban the art form across the state. On April 22, Lizzo pushed back during a concert in Knoxville Tenn., bringing 20 drag queens on stage. According to CBS News, Lizzo said she was told to cancel her show but refused, telling the audience, "In light of recent and tragic events, I was told by people on the internet, 'Cancel your shows in Tennessee. Don't go to Tennessee.' Their reason was valid, but why would I not come to the people who need to hear this message the most? The people who need to feel this release the most?" 

Jamie Foxx Is Recovering

Jamie Foxx, 55, is thankfully recovering from what has only been described as a mysterious "medical complication." On April 24, Nick Cannon told Entertainment Tonight, "I know he's doing so much better because I'm actually about to do something special for him and doing him a favor." Cannon didn't reveal just exactly what the favor was, but he did say that it would be "out there soon." 

Foxx had been receiving medical care at a Georgia-based facility earlier this month after failing to show up to a movie set on April 11 due to an illness, causing a halt in filming. The production has since resumed while Foxx continues to recover.

Cincinnati Barber Goes Viral

Vernon Jackson is the latest viral sensation on TikTok for giving free haircuts to disabled children after he heard how they were being treated at barbershops. Due to the popularity of the TikTok videos, the owner of Noble Barber & Beauty in Cincinnati, Ohio, started the "Gifted Event," which  allows people to donate for the haircuts. Jackson recently sat down with Jennifer Hudson and said, "I wanted it to be a name that was empowering for the child and for the families. They're gifted and live life a special way, so why not call it gifted?" 

Brittney Griner's Wife Is Officially A Lawyer

This time last year, Cherelle Griner was fighting for her wife Brittney Griner to be released from Russia, who was bogusly accused of drug charges. Brittney is now home and this week Cherelle shared some good news, she is officially a lawyer. In May, she received her Juris Doctor degree from HBCU North Carolina Central University. Now, she has passed the bar exam.  "You may now address me as Counselor! " Cherelle wrote on Instagram.

Biden-Harris Announce Their Re-election Campaign

New Orleans Student Receives More Than $9 Million In Scholarship Offers

Dennis Barnes, a 16-year-old student at the International High School of New Orleans, received at least $9 million in scholarships, according to USA Today. Due to a near flawless academic record and a 4.98 grade point average, he was accepted to 170 colleges. Bares told USA Today, "I am still getting letters. Decision letters were an overflow in my mailbox. I'm proud of myself. I'm a Black man and you don't find that too often in the Black community.. it stands out."

Barnes will announce the college he will attend on May 2.

Halle Bailey Celebrates Her 'Little Mermaid' Doll

Mattel has unveiled a new line of dolls inspired by the characters from the highly anticipated new film Disney's The Little Mermaid, which stars Halle Bailey. The 23-year-old singer and actress celebrated the news, telling Entertainment Tonight, "This is the new Little Mermaid doll! I am literally choking up because this means so much to me. And to have one that looks like me, that's my favorite Disney character, is very surreal. And look, she even has my mole! See? And the hair, and the tail…I'm just stunned, so I don't quite know what to do with it, but I'm gonna steal this and take it home."

The Little Mermaid hits theaters on May 26.

Zendaya Makes Surprise Appearance At Coachella

While  Zendaya is known as an award-winning actress, ten years ago she had a huge hit with her song "Replay," which was from her only solo album Zendaya. During a Sunday performance at Coachella, she shocked the audience when she joined friend and collaborator, Labrinth, during his set. They sang two songs that they co-wrote, "I'm Tired" and "All for Us," which have both been featured on Zendaya's hit series, Euphoria. See the clip above.

Twelve-Year-Old Goes Viral For Singing At His Parents' Vow Renewal

Aiden, a 12-year-old from Florida, has gone viral for singing at his mom and dad's vow renewal ceremony. Aiden beautifully sang an emotional version of  Calum Scott's "You Are The Reason." The ceremony took place March 23 in Port St. Lucie, but went viral this week. His mother, Kemorene Mills Armstrong, told Good Morning America, "From the beginning, it was very emotional, and then you heard all the guests in the background. They were crying, so I got even more, teary-eyed, so I had to be looking up because all of the tears would be flooding down. So it was a special moment."  Grab a tissue and see the clip above.

Gervonta "Tank" Davis Lets Ryan Garcia Keep His Earning Despite Their Agreement

On April 22, Saturday, Gervonta "Tank" Davis won his matchup at the T-Mobile Arena in Las Vegas against Ryan Garcia. In an extremely kind gesture, Davis, who was awarded $10 million after winning the fight due to their agreement that the winner would take all, allowed Garcia to keep his $5 million. In a post-match interview, the Baltimore native said, "Nah, he can take the money. He can take the money. He can take it." Check out BET.com's pre-fight interview with him.