Wendy Williams' True Feelings About Her Ex's New Baby Will Break Your Heart
"There's one thing that I could never be a part of."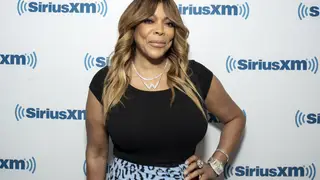 Wendy Williams has candidly confirmed her divorce from Kevin Hunter in multiple interviews, but only recently has she plainly detailed what led to her decision to part ways with her partner of nearly 22 years.
In an honest interview with The New York Times Magazine, the talk show host explained that there was "no vacillating" once she learned her husband had fathered a child with his mistress.
"Kevin had a major indiscretion that he will have to deal with for the rest of his life. An indiscretion that I will not deal with," she said. "I never thought that I would be in this position. I'm a very forgiving person, but there's one thing that I could never be a part of, and that one thing happened."
That "one thing" Williams is referencing, she states plainly: "Kevin has a daughter."
Speaking on learning of Hunter's affair, Williams added that this new information and the stress it caused is what motivated her to move into the sober house — not a relapse into substance abuse, as many assumed.
"I'd done my detective work. I knew what was about to happen, and I was like, 'Let me go someplace where you're not allowed to have the whole bottle of wine,'" she said. "When you see your husband's mistress with a burgeoning belly and you're a blabbermouth on TV with a successful show, you know what's about to happen. I needed to go someplace quiet."
Williams admitted that she needed a calm place to "process" the life changes that were taking place right before her eyes.
"My husband was about to have a baby, and I knew that I was about to divorce," she continued. "I knew that there would be headlines. I had to process it so that once I came out, I came out on top. I didn't work for three decades to land at the bottom over some [expletive] like this."
As previously reported, Williams filed for divorce from Hunter in April 2019 after learning he was welcoming a child with his alleged mistress, Sharina Hudson.
We're glad she was abot to prioritize her mental and physical health through the ordeal, and wish her all the best in her new life.