Simone Smith On What It's Like Being L.L. Cool J's One and Only 'Around The Way Girl'
The successful entrepreneur also reflects on motherhood, what keeps her marriage so strong, and why she's grateful to be a MoMa.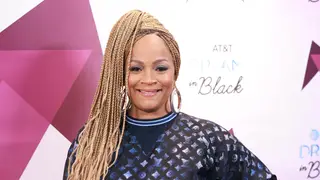 If you were ever curious about who the original "Around the Way Girl" LL Cool J described in his 1990 hit song, then wonder no more. He professed he wanted a regular girl with extensions in her hair;
Bamboo earrings—at least two pairs—standing at a bus stop, sucking on a lollipop, and even though that described a lot of us back then, there was only one lady he had in mind. Simone I. Smith will tell you, "It's me. I am the one and only!"
Since she started dating the Queens rapper 36-years ago, the 53-year-old has never looked back. The successful businesswoman, devoted wife, and proud mom (and now "glam mother") says that when it comes to making their relationship work, she does it all by, "keeping God front and center." The two, who are considered one of the first couples in hip hop, married in 1995, and from their union resulted four beautiful children: Najee, 33; Italia, 32; Samaria 27; and Nina, 22.
Smith co-founded Simone I. Smith Jewelry in 2011 while juggling a hectic life that included raising four children while supporting her husband. After receiving a stage III chondrosarcoma diagnosis, a rare form of bone cancer. Following surgery, she found that the lollipop tattoo on her leg had changed. This discovery inspired Smith to create the concept for her first design, a unique lollipop pendant she calls "A Sweet Touch of Hope."
Smith's jewelry is widely recognized within the fashion industry. Mary J. Blige, Missy Elliot, Queen Latifah, and Kelly Rowland are just a few of the fashion forward stars who have been spotted wearing her jewelry on and off stage. "It makes me feel really good to know that I have designed and created something that women love and that makes them feel good," she tells BET.com in an exclusive interview.
Taking the time to reflect on her role as mother, wife, philanthropist, entrepreneur, and the original "Around the Way Girl," Smith shares details about how she and her husband maintain a good marriage, the most important lesson she has learned from being a mom, and one of her fondest memories she has shared with her famous husband over the past three decades.
BET.com: You are known as the "original Around-the-Way Girl." How did you keep your marriage so strong for so many years?
Simone I. Smith: The realest answer that I can give you is that God should be front and center because marriage takes work. We're coming up on 28 years, and we also learned the importance of space. You have to give your spouse space to be who they are. My husband has a super busy schedule and is always moving, and I respect that. Respect also comes with compromise, which is shared between us. This is what makes us a loving family.
BET.com: As a mom of four, what lessons have your children taught you that have made you a better mother?
Simone I. Smith: I've learned patience. As you become a mother, it's no longer about you. You can love someone more than you love yourself. I'll do anything for my children, but I've learned over the years that it's important for me to look after myself because taking care of myself allows me to take care of them.
BET.com: What is something that you feel you instilled in your children to make them the adults they've become today?
Simone I. Smith: I think my husband and I have always encouraged our children to be whoever they want to be. They can do whatever they want to make the world better. I tell them that they are not only beautiful, but they're also smart.
My children are also naturally giving people. I think that's because they see the way my husband interacts with people—he is very giving. I am very sentimental, and one of my love languages is acts of service. I love to give to others through charity and thoughtful gifts.
BET.com: You and L.L. are now grandparents. Congratulations! How is being a grandparent different from being a parent?
Simone I. Smith: Let me tell you something, it is so amazing! Being a mom is great, but being a MoMa is something different. I know some people like to spoil their grandbabies, but I don't let them get away with stuff. You know, I'm an Aries. I'm very sweet but stern.
As a MoMa, I can only give my daughter advice–I let her raise her children. I want her to learn about and experience one of the greatest gifts from God. When she needs me, I am there.
BET.com: You are known for your successful business endeavors, especially your jewelry. What inspired you to start a jewelry collection?
Simone I. Smith: I love big hoop earrings, and there was a void in the marketplace. I couldn't find good quality hoop earrings. My husband gave me a pair of doorknockers back in the day, and I've been hooked ever since. That's the generation we came from. You have to have bamboo-earrings at least two pairs.
BET.com: I think after that song, we all had at least two pairs. Your earrings have been seen on all the fly girls including Mary J. Blige. How does it feel knowing that so many people love and embrace your products?
Simone I. Smith: It puts a smile on my face, especially when I see the jewelry on someone I don't know. When I see someone out and about wearing my earrings, I'm the type of person who taps them on the shoulder and says, "Girl, I like your earrings!" It truly warms my heart."
Mary [J. Blige] is one of my best friends. She was also one of our top supporters because she grew up wearing big hoop earrings too. So as quickly as I made my designs, I would send them to Mary, and she would wear them.
One day she was like, 'We need to do something together and that is when we created the Sister Love Collection, which pays homage to the nostalgia of the late 80s, and now we're just modernizing on the fly girl.
BET.com: You have such beautiful pieces. And speaking of beautiful pieces, let's talk about your Book of Love collection. What was the inspiration behind it?
Simone I. Smith: Yes, absolutely. Quite simply, mothers are books of love. I wanted to create a 3D heart pendant. I sketched out a design for my team, and when it came back from the manufacturer, I said, "This is it!"
I'm not the best at sketching, and sometimes when we get the samples back from the manufacturer, they're not perfect. It may come back too small or too big, but this one was perfect the first time.
BET.com: How'd you come up with the name for this collection?
Simone I. Smith: Now and then, Todd (LL Cool J) will give me a good name for a piece of jewelry. When I showed him the pieces, he immediately said to name it Book of Love.
BET.com: What is it about jewelry that you think makes the perfect gift?
Simone I. Smith: When you have on a great pair of earrings and a nice necklace, you look so fly. If I walk out of the house without my hoops on, I will make a U-turn to go back and get my favorite pair.
Jewelry makes you feel good and completes your look. Giving that special woman in your life a nice piece of jewelry is a move that will never go wrong.