La La Anthony Explains Why She Invested In Social Justice-Minded Cannabis Company
Several other celebs are also financially backing the woman led enterprise.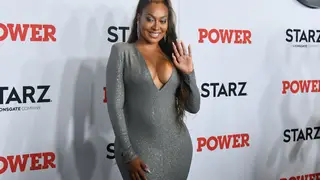 Even celebrities realize the importance of multiple streams of income and back in April, La La Anthony is just the latest actress to add to her empire. The "Power" star is one of several high-profile investors in Leune, a California-based cannabis company with a social justice focus. 
Anthony recently opened up to FORTUNE for their "Why I Invest" series about why she decided to financially back Leune. The actress and entrepreneur revealed that she was searching for the right cannabis company to invest in, and Leune's "aesthetic" and mission were the perfect fit. 
"Being in this specific industry brings with it a large platform and serious responsibility, and we are very excited to use our collective Leune voice to help bring awareness to social injustice and inspire true, positive change," Anthony said in an interview published on Sunday (Sept. 5). 
Leune announced a $5 million seed round on April 15. In addition to Anthony, the list of celebrity investors included music manager Anthony Saleh (whose clients include Nas and Future), NBA stars Carmelo Anthony and John Wall, as well as sports agent Rich Paul.
"We are thrilled that such accomplished investors will be joining us in the LEUNE-iverse," stated founder and CEO Nidhi Lucky Handa. "Having their support through this crucial growth stage makes a world of a difference for a brand of our size, and we look forward to building one of the leading names in cannabis together." 
Handa said the company planned to expand with the new funding. Leune currently has 22 branded cannabis products available at more than 130 California dispensaries.
Anthony said she's thrilled to connect with a company that's led and founded by a woman of color.
"Leune and Nidhi clearly see the growth potential of the cannabis industry," she added. "I'm so happy to join them on their journey."