EXCLUSIVE: Tia Mowry On Food, Family, And Her YouTube Advice For Jordyn Woods
The mom of two also explains why she's not pressed for a snapback body.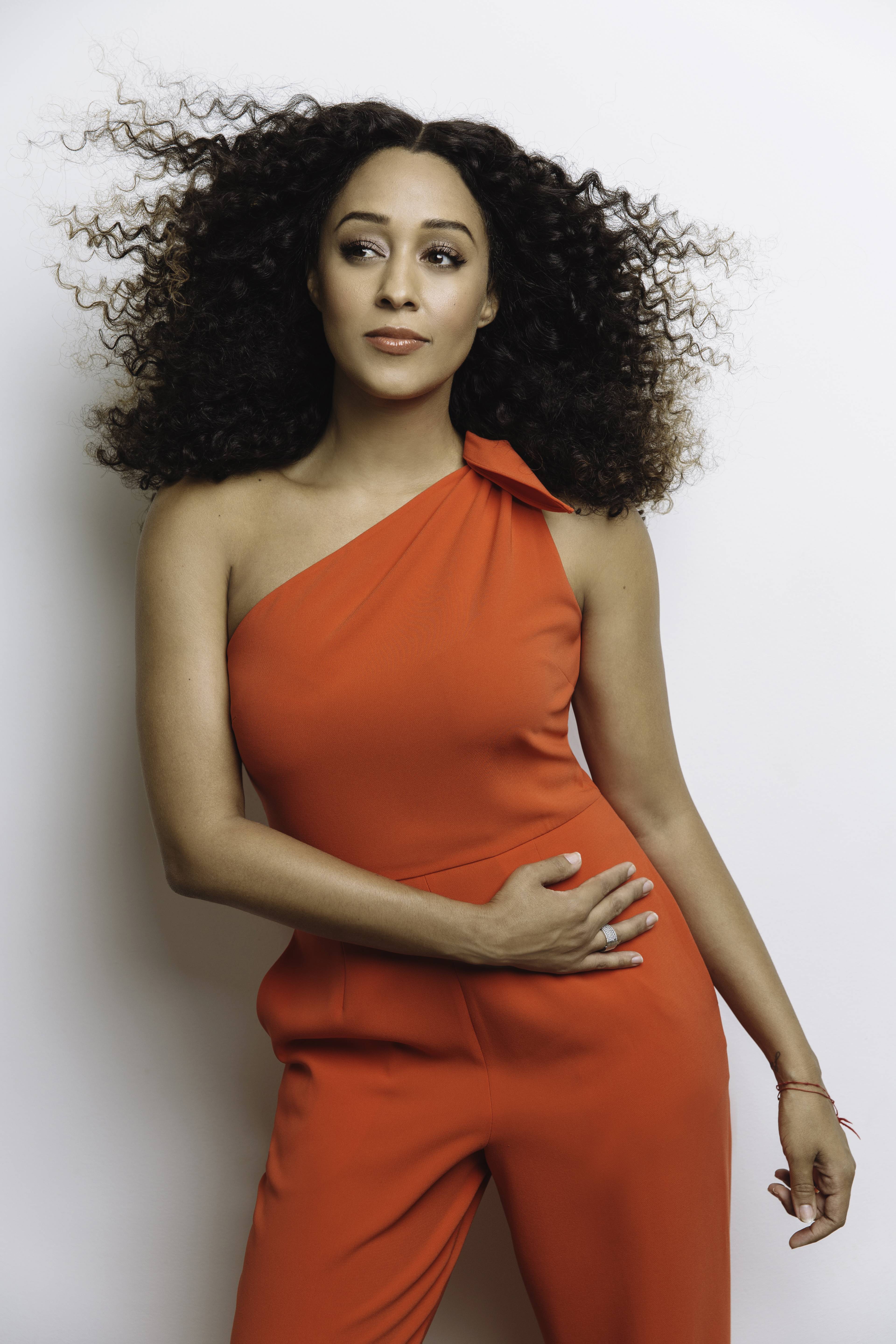 No matter what role—mom, wife, actress, YouTuber—Tia Mowry is slaying, she always makes sure delicious food is focal point! The certified foodie shares her yummy recipes with fans all the time, but this holiday season she's teamed up Quaker to talk about the meal that brings her the most nostalgia during this time of year—Breakfast! "I think that cooking is lots of fun and I want to encourage everyone else out there to get inspired to get into the kitchen by coming up with their own original recipe using any of the Quaker products and submit that recipe to cook with CookwithQuaker.com. They'll have a chance at winning $1,000," Tia tells BET.
Not only did Tia talk to BET about giving folks across America a chance to showcase their breakfast recipes, but the mom of two shared what it was like shooting movies after gaining 65 pounds during her second pregnancy and her YouTube advice for Jordyn Woods.
BET: With the holidays approaching, I want to know what's on the menu in the Mowry-Hardrict household?
Tia Mowry: Thanksgiving we always had a huge feast. Of course, we have the Turkey. Sometimes we'll do the deep-fried Turkey. We've done that several times, so we're not going to do that this year. We're just going do a regular Turkey that we're going to roast. There are mashed potatoes. Sometimes we'll do sweet potatoes or sometimes we'll just do regular white potatoes. Then there's of course the collard greens, which is something that I absolutely love making even if it's not during the holidays. And then let's see, there's green beans. I make this mean brussels sprout and bacon salad. That's always a hit. My cornbread with some ancho chili butter, which is basically just butter and some chili with and I love to put honey in cornbread. Oh gosh!
B: Wow, everything sounds amazing! What are you whipping up when it's not a Thanksgiving feast but it's still the holiday season?
TM: For me, it's pancakes! I've been making pancakes ever since I was a kid. It was one of the first things that I started cooking in the kitchen. And you know, Quaker actually did this survey that they conducted in which they found some really cool breakfast trends. In that survey they said that Americans tend to have this nostalgic feeling when it comes to breakfast and whatever they're inspired to eat usually comes from their childhood. So I grew up eating pancakes and making them, and now I've carried on that tradition with my family. I mean, I just made, you know, the pancakes these Banana Chocolate Oat Pancakes morning.
My daughter loves them. If she could eat pancakes for breakfast, lunch, and dinner, she would. The same thing with my son. Not only that, my son is a huge fan of my overnight oats. I'm really into like practicality, quick and easy recipes. And that's just throwing in some oats with some milk, yogurt, fresh fruits and some honey. We just throw it in the refrigerator and then in the morning you have this nice kind of porridge and it's really good.
I also do warm, um, oatmeal. I'll throw in some, um, almond butter or sunflower butter with some bananas and some honey and just kind of mash all of that together.
B: What about holiday traditions?
TM: My husband and myself, we work a lot so the holidays is a time when the whole family can come together and just focus on each other and quality time. On Thanksgiving, Christmas or New Year's morning we have a great breakfast together. Sometimes we'll travel. Last year we went to Hawaii with the whole family. But most of the time the whole family will get involved in the kitchen and just spend time together, watch those Lifetime movies…I actually have a Lifetime movie that's coming out on November 27th. I am a family person, so the family always comes together and we laugh, we eat and we watch TV.
TM: We've never done that before, actually. I don't know. I guess it would be interesting if everybody's together. I'm sure my brothers, Taj [Mowry] and Taviar [Mowry] would just be laughing the whole time. Just picking on us and playing around. I mean my brother just recently put us all on this group chat and was sending us memes of us of this chameleon thing that we did. "Bite you once, bite you twice, a little water, pay the price."
It was on an episode of Are You Afraid Of The Dark? that my sister and did when we were younger. So that's the kind of stuff that probably would go on the go down if we put one of our movies on. [laughs]
B: I saw your post-pregnancy check-in post on Instagram. How was it shooting your upcoming Lifetime movie post baby no. 2?
TM: So right after I had my daughter, Cairo, I gained 65 pounds and I was okay with that. When I first had my son, I felt differently. But now with my second child, I've learned to embrace my body no matter where I am in, in my journey. So, with A Very Vintage Christmas I actually shot that just three months ago.
Before A Very Vintage Christmas, I shot My Christmas Inn and The Gingerbread Romance  four months after having my daughter. And again, I'm not the type of person where I'm like, "Oh my gosh, I have to look this way to be seen." No, wherever I am at that moment, that's how I'm going to be. I love who I am and I'm embracing who I am right now. I intentionally went back to work to inspire other women that you don't have to feel like you have to be perfect. You don't have to feel like you have to fit societal standards of what they think beauty is to go back to work.
I wanted to go back to work and show women out there that you don't have to not go after your dreams and your goals just because you've just had a baby. No, go ahead and do it.
TM: I would say just continue to be yourself, you know what I mean? Cause there's only one you and we all have something to offer. I think the coolest thing about being a YouTuber is you're able to come out with content that you want to do and you don't have other people telling you what you need to do. It's something that you want to do and it's a way that you can communicate to your fan base and your audience. And I've truly had an incredible time doing that. So I would just tell Jordyn to just have fun and continue to do her and everybody has something to offer.