What To Watch To Celebrate Juneteenth And Black Music Month On BET, BET Her and BET+
This weekend, spend time enjoying both new and nostalgic programming that focuses on the rich history, culture. and contributions of Black America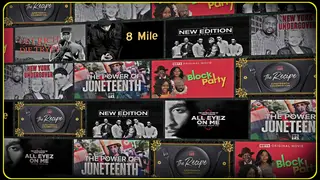 People who have never heard of Juneteenth or understand the significant core of its meaning no longer have an excuse. For the second year, the annual holiday is being observed nationally and is slowly becoming a part of American conversation. Despite the controversy about revisiting the nice and not-so-nice parts of our country's history, facts cannot be changed. On June 19, 1865, nearly three years after the Emancipation Proclamation, word finally made its way to Galveston, Texas, that all enslaved Black people had indeed been freed.
Then, in 2021, President Joe Biden signed a proclamation to officially make the day a federal holiday with the acknowledgment of the deep pain slavery caused on the Black community.
BET, BET Her and BET+ have always celebrated our rich and diverse culture and have combined efforts to celebrate both Black Music month and Juneteenth this weekend (June 17-19) with a marvelous roster of programming. It is sure to entertain, inform and inspire all communities to honor Black art, Black culture, Black history.
Here's our must watch list of programming curated especially for you to enjoy this weekend. Grab a friend and enjoy!
---
FRIDAY, JUNE 17, 2022
It's the endearing origin story of how Ronnie DeVoe, Bobby Brown, Ricky Bell, Mike Bivens, Ralph Tresvant and later Johnny Gill went on to become the  international R&B/pop sensation, New Edition. In celebration of Black Music month, the young men from Boston will take you through their many ups and downs as they embark upon a 30+ year music career while trying to maintain and secure their brotherhood, their money, and their longevity in this business.
SATURDAY, JUNE 18, 2022
"New York Undercover" | 9:30 am - 4:30 pm ET
This show strangely changed the way urban communities viewed police officers. Partially because we had never seen two, fine men of color portray undercover detectives the way Malik Yoba and Michael DeLorenzo tackled their roles. It was also because of the way the show highlighted the hottest acts in music at the time. Check out a hip-hop infused, mini-marathon block of some of our favorite "New York Undercover" episodes from the 90's.
"All Eyez on Me" | 4:30-8:05 pm ET
"Get Rich Or Die Tryin'" | 8:05 -11:05 pm ET
"8 Mile" | 11:05 pm -2:00 am ET
Drama, music and hip-hop are on full display with these three films featuring some of the best rappers of all times. Start the evening out with "All Eyez on Me", the biographical story of the legendary Tupac Shakur showcasing his rise to fame including his ties to Death Row Records and his growth as an artist and as a consciously connected Black man. Watch "Get Rich Or Die Tryin'" starring 50 Cent for the story as a kid who is making his way from the gritty, street hustle culture to becoming a superstar in the rap game. Then finish the day off watching "8 Mile," the coming of age story starring Eminem, who portrays  a white rapper from Detroit trying to make a name for himself in hip-hop.
SUNDAY, JUNE 19, 2022
"The Power of Juneteenth" | 12:30 pm ET  & 5:00 pm ET
BET will premier a half-hour special hosted by CBS News anchor Jericka Duncan. The show will feature compelling segments highlighting the connective tissue between music, food, and powerful history that makes Juneteenth such an important holiday. You'll see interviews with lifelong activist Opal Lee, who never gave up the fight to make sure Americans from all walks of life pause each year to celebrate the abolition of slavery and celebrate freedom.
Cookbook author Nicole Taylor's new book, "Watermelon and Red Birds: A Cookbook for Juneteenth and Black Celebrations" just debuted and so she'll discuss the history of  Juneteenth cookouts and the customary "red" foods eaten at Juneteenth celebrations. Noted historian and Harvard professor Henry Louis Gates Jr. will explain the historical significance of Juneteenth while Grammy nominated band Tank and The Bangas will share a special performance of their powerful song Stolen Fruit, which pays tribute to the "golden roots" of Black Americans and the power of freedom.
"Juneteenth is important for Black Americans because we need to know where history started, how far we've come, how much we've endured and the work of people before us," said Anthony Hamilton, the multiple Grammy award-winning recording artist who will open the special with a stirring performance. 
"The songs that I chose for the Juneteenth celebration are songs that I felt would touch people, inspire them and, and give 'em hope and freedom as well … I think music has a way of doing that and allowing people to feel better on so many levels."
"The Recipe: Juneteenth Edition" | 1:00 pm ET on BET and BET Her
LeToya Luckett, Ray J, Trae the Truth, Masego, Slim Thug, and Bun B get together for a Juneteenth holiday special rooted in tradition, soul food, good vibes and great music. Who else is ready for the weekend? 
"Block Party" | 5:30-8:00 pm ET
A Juneteenth comedy that first premiered on BET+ on June 16 and will now air on BET network in a wider release. Directed by Dawn Wilkinson, the film centers on Keke McQueen (played by Antoinette Robertson), who moves back home to Grand Rapids, MI after graduating from Harvard.  When Keke finds out that her Grandma Janice (played by Academy Award nominee Margaret Avery) starts to exhibit signs of dementia, she's suddenly forced to put her life on hold. Where does that leave things as all eyes are on KeKe when the future of Janice's epic Juneteenth block party now remains uncertain?
"Harriet" |8:00 -11:30 pm ET
Watch the inspiring true story of the great American liberator, Harriet Tubman. Oscar nominated actress Cynthia Erivo, who portrays our heroine, will have you rooting for Harriet as she escapes from the physical and mental binds of slavery and takes on the dangerous mission to return to the South to liberate others. This film is truly one of the best teaching tools to explain the relevance of Juneteenth today.