Colin Kaepernick's 'Kunta Kinte' T-Shirt Tells Us Everything About His Core Issues With The NFL
The blackballed former quarterback continues to send his message to the league.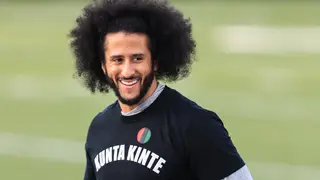 The Colin Kaepernick workout happened on Saturday (November 16) in Atlanta, though not how it was originally scheduled. 
While there is plenty to talk about regarding his performance, his choice of attire is also a trending topic. 
No doubt you've heard the news that, amid disagreement and request denials on both sides, Colin Kaepernick and his representatives decided to host the workout at a different facility in Atlanta. 
His choice of T-shirt is exactly what is at the heart of the tension between Kap, the NFL and its teams. 
As many of us know, Kunta Kinte is the main character in author Alex Haley's novel Roots: The Saga of an American Family. The novel was adapted into a widely successful miniseries by ABC. 
Kinte was captured in Africa and sold into slavery in the United States and given the name "Toby" by his slave master. 
He refused to accept this name and was savagely whipped and beaten on numerous occasions. Kinte also tried to escape several times and was severely punished when recaptured. 
No doubt Kap was sending a message wearing a T-shirt with the name "Kunta Kinte" in bold. 
He didn't address the shirt in his brief comments to the assembled media following his workout. But nothing needed to be said about the shirt.
Kap wants a shot at playing in the NFL, and he displayed his abilities during the workout. 
But like Kinte, he will do what is right and stand by the courage of his convictions regardless of the cost. 
Kap has been blackballed by the NFL since 2016 for protesting racial injustice and the killing and brutalizing of people of color by the police. 
The various team owners and front offices feel that Kap's protest would offend the racist portion of their fan bases and, frankly, his protest likely offends many of those same owners and front offices as well. 
Kap's shirt made it clear on Saturday. 
In some form or fashion, he will continue to stand up and speak out for what is right.