Emerging Designers Are Keeping Hip-Hop Fashion Alive Through Mentorship
Starting a fashion brand? Check out how having a mentor seasoned in the game will help your success!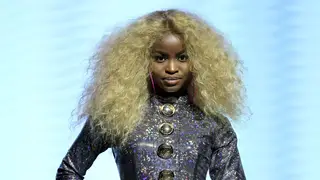 Fifty years ago, hip-hop became the celebratory sound that would heal the souls of Black culture. Since then, hip-hop has become a lifestyle and a source of pride. New Yorkers and people around the world celebrate hip-hop culture through fashionable expression. Wearing fitting caps, Air Forces, baggy jeans, gold jewelry, and graphic tees that celebrate hip-hop legends whose lyrics we hold close to our hearts.
Hip-hop fashion was celebrated in collaboration with the Universal Hip-hop Museum and Video Music Box. The collaboration honored emerging hip-hop designers through mentorship and celebrated their work in hip-hop fashion with a runway show. Some emerging designers included Haus Of Swag, Pepper Jacques, and Riche Threads. Here is how mentorship has impacted them as up-and-coming designers and Black business owners. Take note!
I sat down with Pepper Jacques CEO Rachel Fenderson and her sister, COO Marshea Fenderson via video call. The brand's CEO was blooming with radiance while taking the call from Jamaica. Completely on brand with their Spring/Summer RTW and Resort Collection, The Resort Collection, the sisters embody their motto: Pepper Jacques is a lifestyle choice. Rachel wasted no time sharing how mentorship has helped protect her business, "We were presented with a deal from a major retail store. However, the contract was unclear. I spoke to my mentor, Karl Kani, and we looked at it together." She continues, "We quickly learned that working with this retail brand would mean they had the rights to our brand name and logo for a lifetime."
We've seen a boom in fashion brand collaborations with designers over the last few years. Brand collaborations are a massive opportunity for designers to have their designs in major stores, billboards, and digital campaigns. Pepper Jacques CEO and her sister are clear on playing the long game, prioritizing brand longevity and protection - regardless of how tempting the opportunity is.  The Brand's COO, Marshea Fenderson, commented, "It's easy to take the first big opportunity out of excitement. Having a mentor is a revalidation to have someone to remind you that you will get there, but it doesn't have to be this path." 
Pepper Jacques is a luxury clothing brand that uses innovative yet sophisticated designs to capture the shapes and styles of every type of women's body. Created out of a pure love for fashion, Pepper Jacques rejects the limitations that other brands place on the misses and plus-size markets. Created in 2011, CEO and designer, Rachel Fenderson, infuses her training and technique with Jamaican culture and New York sensibility influences.
Traditionally, mentorship is provided by an experienced person who can add value and guidance. However, life is always the greatest teacher. Riche Threads lives true to this as he credits the culture that inspired his career. He shares, "The culture mentored me. I didn't go to school for design, so I learned from being outside and seeing what was around me." Riche, a native New Yorker, would frequently go to areas like Soho and study the fashion around him. Little did he know studying the culture would change his career trajectory. "Around 2014, I noticed an interest in graphic tee's. People generally wanted them to go with their sneakers." He continues, "I knew a girl who worked at BET, and I shared one of my first graphic tees with her. My graphic tee was worn by Terrence Jay on 106 & Park. That's when I knew I was on to something."
Since then, Riche has created radiant designs that honor the culture that raised him. His website, is a playful mix of streetwear and street art. My personal favorite is his CDG wall art reminding us there is still love in the culture he serves. Riche discusses how the culture showed him the importance of authenticity is in a world full of trends. He shares, "It's hard to be authentic in your space without touching a trend. The culture has always taught us that people want authentic, timeless pieces. People want to look at that quality tee shirt years from now and still have that same excitement. That's how they know they invested in the right piece."
We've seen hip-hop fashion carry a life of its own birthing incredible designers, brands, and stylists that honor the culture that lives today.  Riche believes our greatest teacher, the culture, must not be lost. We should continue to remember the true meaning of hip-hop fashion now, forever, and always. "Hip-hop Fashion is art, not just clothes. We need to continue to stay part of the cause, not just part of the movement."
Toni Scott Grant, Owner Of Haus Of Swag
Toni Grant, designer, and owner of Haus Of Swag brand, celebrates what it is to be a female in hip-hop culture. On her website, fashion enthusiasts can find various items: jewelry, handbags, clothing, etc. Her handbags include uplifting messages like, "I am one dope chick." These messages were refreshing to see, mainly because hip-hop culture hasn't always celebrated women.
Although her hard work is opening doors for her, Toni is humbled by how mentorship has positively impacted her career. She shares, "Groovey Lew was a great mentor for me. I learned from him to have stamina, consistency, and having a thick skin. Thick skin and consistency are your staying power. That's what makes you great at what you do." And Toni proves her greatness through her successful brand. Did I mention that most of her bags are sold out on her site? A designer's dream.
A booming business, however, comes at a cost. Toni explains how vital diligence is as a Black business owner. "Even if you are creative, you will lose on the business side of things if you don't study. It's important to keep track of your business: backtracking your receipts, filing your taxes, and keeping track of your employees." She continues, "As a Black creative, these are some of the ways mentorship can help."