Black Thought Leaders Blast Racist Attacks Against Supreme Court Justice Clarence Thomas
Black notables from differing political ideologies penned an open letter calling out the distinction in criticism of Thomas versus hate speech.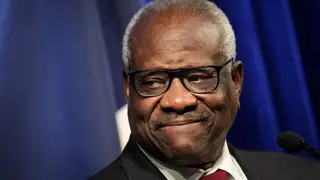 Supreme Court Justice Clarence Thomas, often criticized in the Black community for his conservative viewpoints and opinions on the bench, has attracted Black defenders in the wake of what has been seen as racist attacks against him..
A group of Black writers and thinkers across the political spectrum are speaking out in defense of Thomas. In a commentary published on RealClearPolitics on Wednesday, they made it clear: Like the man or not, it is always unacceptable for white people to use racist and dismissive language when referring to the second Black man to sit on the U.S. Supreme Court.
Erec Smith, York College of Pennsylvania  associate professor and co-founder of FreeBlackThought.com, is among the signers of the letter. He told BET.com that despite his profound disagreement with Thomas on most issues, he recognizes that white people feeling emboldened to use racial insults against him is unacceptable and must be addressed.
"This sounds a lot like the whole "uppity" insult. In America, you have to act a certain way if you're going to be "really" Black. White people accuse Black people of being uppity."

Thomas has long been the target of criticisms in the Black community since his controversial confirmation hearing in 1991. He has consistently leaned toward the right on most issues placed before the high court and sided in his opinion with other conservative justices. In the most recent decision that overturned Roe v. Wade, he agreed that women do not have a constitutional right to terminate their pregnancies.

But amid the overall backlash at the court, Thomas was targeted on social media as a "porch monkey," "coon" and N-word "slave to his wife" Ginni Thomas. To which the more than 100 who signed onto the letter scoffed.
"We, the undersigned, condemn the barrage of racist, vicious, and ugly personal attacks that we are witnessing on Clarence Thomas... Whether it is calling him a racist slur, an "Uncle Tom" or questioning his "blackness" over his jurisprudence, the disparagement of this man, of his faith and of his character, is abominable," the letter reads, continuing: "He is entirely undeserving of the vitriol directed at him. Character assassination has become too convenient a tool for eviscerating those who dare dissent from the prevailing agenda, especially when it is a black man who is dissenting."
The principal authors of the letter are Brown University economics professor Glenn Loury and Robert Woodson Sr., founder of The Woodson Center, a Washington D.C.-based conservative nonprofit organization.
But they are joined by a number of people who have been vocal in American politics for years from author, commentator and professor John McWhorter to Chicago community outreach worker Helen Tyner, to activist Ayaan Hirsi Ali.
Smith told BET.com that even though it may be fair to criticize Thomas, a portion of the disagreement with him has become "egregious" because white people are emboldened to make racial insults toward him. "Any white person can think whatever he or she wants to. But when a Black person goes off script, that's bad. It's as if a Black person can only say certain things. And that's what's going on here."