BET Awards 2023: 6 Bad-Ass Braided Styles From Tems
From beads to box braids, these styles are the perfect summer inspo.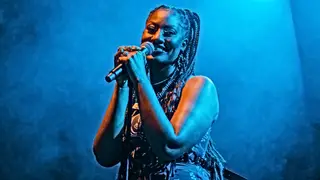 This Nigerian-born artist has truly "understood the assignment" regarding a good braid-up.
Nominated for BET's "Best Female R&B/Pop Artist," "Best Collaboration," and the "Viewer's Choice Award," Tems is making her mark this year through music and some killer hairstyles. From hot weather to "hot girl summer", this is the perfect time to experiment with a new look.
Need some inspo to be a braided-up baddie? Check out six braid styles from Tems that will leave you SNATCHED for summertime.
Girls Just Wanna Have Buns

This elegant look, completed with pearls and curls, is great for anyone looking for that special event style this season. This updo of cross-hatched braids into two buns is fit for any occasion, whether it's a summer wedding or just your family cookout.

A New Beach Wave

These medium knotless box braids from her London show last July are giving goddess. The added touch of waves to the ends gives a black girl summer staple an elevated, ethereal look.

The Killer Combo

Who doesn't love a good mix-up? This style is truly the best of both worlds, showing off the intricacy of some "X" patterned braids with the power of a killer ponytail.

Leave It Hanging

The delicate hanging curls in the front make this a stand-out style. Cornrowed into a bun, you can have fun adding some accent curls to give that perfect hint of effortlessness for your next summer outing.

CRAZY Tings

This signature style she wore in her "CRAZY Tings" music video is one for the books this season. The short box braids into a messy bun bring a statement with the multicolored beads. You can mix colors, shapes, and styles to seal your strands with that touch of originality.