Biden To Establish National Monument Honoring Emmett Till And Mamie Till-Mobley
Till's death and his mother's activism was a catalyst to the Civil Rights Movement, now a monument to them will be erected.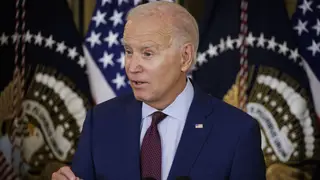 According to CNN, Biden will sign a proclamation on Tuesday, to commemorate what would have been Till's 82nd birthday. The monument will tell the story of Till's lynching and the heroic activism of his mother which helped to launch the Civil Rights Movement.
"The new monument will protect places that tell the story of Emmett Till's too-short life and racially-motivated murder, the unjust acquittal of his murderers, and the activism of his mother, Mamie Till-Mobley, who courageously brought the world's attention to the brutal injustices and racism of the time, catalyzing the civil rights movement," a White House official said in a statement.
Till was abducted, tortured, and killed by Roy Bryant and J.W. Milam in August 1955, after he whistled at a white shopkeeper's wife in a grocery store in Mississippi. Bryant and Milam were acquitted by an all-white jury but later confessed to the killing in Look magazine. Fifty years after the crime, Carolyn Bryant Donham,the shopkeeper's wife, C also admitted to lying about Till touching her.
Donham died in April 2023 just two months after Till's family filed a federal lawsuit against her due to new evidence that emerged from the case.
The Emmett Till and Mamie Till-Mobley National Monument will be centered in Illinois and Mississippi. Till was born in Chicago and was killed near Drew, Miss.
In Illinois, Roberts Temple Church of God in Christ in Chicago, where Till's funeral service was held in September 1955, will be honored.
Additionally, two sites in Mississippi: Graball Landing, which is believed to be where Till's body was discovered in the Tallahatchie River, and the Tallahatchie County Second District Courthouse in Sumner, where Till's murderers were acquitted by an all-white jury, will also be honored.
"The designation reflects the Biden-Harris Administration's work to advance civil rights and commitment to protecting places that help tell a more complete story of our nation's history," the White House official continued.
The designation of the Emmett Till and Mamie Till-Mobley National Monument is the latest attempt of lawmakers to memorialize Till and pay tribute to the courage of his mother amid an unimaginable personal tragedy.
After more than 120 years since it first was introduced in Congress, lynching is now a federal hate crime with the passage of the Emmett Till Antilynching Act of 2022.
Last year, Till and Till-Mobley were both posthumously awarded the Congressional Gold Medal which is the highest civilian honor that Congress awards.