Four Black Harvard Students 'Horrified' After Police Hold Them At Gunpoint
A false 911 report sent campus police to raid a dorm suite leaving many enraged including several alumni.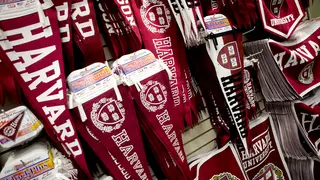 Black students and alumni from Harvard University are outraged over a "swatting" incident that resulted in four undergraduates being held at gunpoint by campus police officers during an early Monday (April 3) raid.

The Harvard Crimson reported that five university officers raided the school's Leverett House, one of its largest student residences, after a 911 call came in about an armed person in a dorm suite. The four occupants, who are all Black, were ordered out and into the hallway as HUPD officers pointed service weapons at them.

Seniors Jarah K. Cotton, Jazmin N. Dunlap, David G. Madzivanyika, and Alexandra C. René, were each in the suite at about 4 a.m. when the raid took place and were awakened by commands to open their door, the Crimson said. "All I can recall having in my mind is 'I haven't done anything,'" Cotton told the Crimson. "I really had no clue why they were raiding our suite."
HUPD officials told the publication that they had been alerted to a threat against occupants, but after a search, they did not turn up any individual who was armed or acting suspiciously. The students were led into another room and told that a false report led police to believe there was an active threat in Leverett House.
According to a statement from the university, a 911 caller, who identified himself as a male, was "kicked out" of the school and told the HUPD that he had taken a woman hostage in the suite and had tried to kill her. He referenced a room number that indicated he was familiar with Leverett House, said he was armed, and threatened to shoot officers who entered. In total, he called the police three times.

The incident is an example of the criminal trend of swatting," the act of making a false report to an emergency service or law enforcement agency about a particular location or address. It is an offense punishable by jail time in many jurisdictions, and legislators in several states want to make it a felony. In one incident, an Ohio gamer was sentenced to 15 months in prison after a swatting incident that led to a death, according to the U.S. Justice Department.
The Harvard raid also set off anger among Black alumni who want answers about the protocols of campus police. The Harvard Black Alumni Society released a statement of its own on social media on Wednesday (April 5), saying its members are "horrified and upset" about the incident.
"What is your protocol for responding if the threat is there in a dorm room?" HBAS president Monica Clark told Boston.com. "Have you received threats like these before? And what did you actually do?"
In a joint statement from the Harvard Black Students Association and the Harvard Black Community Leaders, students urged the university to conduct an investigation of what happened and "ensure that justice is served" for those affected.