Kanye West Accuses Quentin Tarantino And Jamie Foxx For Stealing 'Django Unchained' Idea From His Pitch
"They got the idea from me," he shared, speaking about the 2012 film.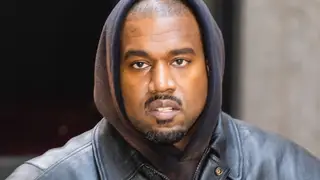 Kanye West is now making claims that acclaimed director Quentin Tarantino got the concept of the 2012 film Django Unchained starring Jamie Foxx from him.
In an interview on Piers Morgan Uncensored on Oct. 21, the rapper said that he pitched a similar idea during a brainstorming session for the music video for his 2005 song "Gold Digger," which also features Foxx. The official video, which centers on a montage of Foxx and West dancing with various pin-up models, has a similar resemblance to Djano Unchained, according to the 45-year-old.
"Tarantino can write a movie about slavery, where actually — him and Jamie — they got the idea from me, because the idea for 'Django' I pitched to Jamie Foxx and Quentin Tarantino as the video for 'Gold Digger.' And then Tarantino turned it into a film," West said.
The award-winning film follows Django's attempt to free his wife (played by Kerry Washington) from enslavement after freeing himself while he partners with a German bounty hunter named Dr. King Schultz ( played by Christoph Waltz).
West has also apolgized for his anti-semitic "death con" comments on Twitter and is claiming that his remarks came from a place of "hurt" and shared that he is "sorry" for the people who were offended by his "death con" comment.
"I will say I'm sorry for the people that I hurt with the 'Death Con' — the confusion that I caused," he said in a conversation on Piers Morgan's talk show. "I feel like I caused hurt and confusion. And I'm sorry for the families of the people that had nothing to do with the trauma that I have been through and that I used my platform, where you say hurt people hurt people, and I was hurt.
Ye previously appeared on NewsNation with Chris Cuomo to share that he didn't agree with being labeled anti-semitic during their recent interview.
"I don't like the term antisemitic," West expressed in response to his controversial tweets.
"It's been a term that's allowed people, specifically in my industry, to get away with murder—sometimes literally—and get away with robbing and doing bad [to] people. … You're saying it's antisemitic, but I don't believe in that term."