The Injustice Often Overlooked: Latasha Harlins' Sister Reflects 30 Years After The 1992 L.A. Riot
Overshadowed by the Rodney King beating, Dr. Christina Rogers says the 15-year-old shooting victim's family wants a new generation to know about this case.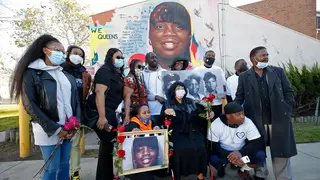 What's often forgotten about the L.A. Riot is that the community's anger spilled into the streets not only because a jury acquitted the LAPD officers caught on video viciously beating Rodney King. The verdict handed down the next year acquitting them was a breaking point for sure, but there was another incident that added fuel to the fire.
Days after the police assaulted King, a Korean grocery store worker fatally shot Latasha Harlins, 15, after wrongfully accusing the Black teen of trying to steal a bottle of orange juice. As with the verdict in King's case, the criminal justice system allowed Harlins' killer to walk free.
"The Rodney King beating took a toll on the community, but there was also a young, African American child killed," Dr. Christina S. Rogers, Latasha's sister, told BET.com. "Rodney King's case overshadowed what happened to Latasha, and that's why we are still, to this day, over 30 years later, continuing to share her story."
Rogers, the executive director of the Latasha Harlins Foundation, the family and their supporters are making every effort to make sure the world remembers Latasha's case while they advocate for change.
She added, "We're all about unifying and unity and reconnecting and supporting one another. Was justice served? No. But what we're doing is sharing Latasha's story. The new generation needs to know the history."
On March 16, 1991, the South Central teen walked into Empire Liquor Market and Deli and picked up a $1.79 bottle of orange juice, and put it in her backpack, the Los Angeles Times reported. Soon Ja Du, the Korean-born grocery worker, whose family owned the shop, accused Latasha of stealing the juice.
The police later confirmed that Latasha had $2 in her hand to pay. But Du grabbed Latasha's sweater, and the girl fought back, punching Du in the face and started walking out. Du fired a handgun, striking Latasha in the back of the head.
Although a jury found Du guilty of voluntary manslaughter, Judge Joyce A. Karlin sentenced her to probation. The result further separated the African American and Korean American communities and laid more of the groundwork for what was to come a year later when Los Angeles erupted in social unrest upon hearing the officers who beat King would go free. But the injustice was even more bitter for Harlins family.
"It was hard. The criminal justice system failed to provide justice for Latasha," Rogers stated. "The Korean store owner only received probation and a $500 fine for murdering a child, a human being. That's unacceptable. It's not right."
On the day of the shooting, Rogers was playing in a park with her brother and friends when people in the neighborhood started talking about a girl getting shot, not knowing that it was her sister.
"It was a sad day," Rogers, who was only nine years old, recalled. "To be honest, the norm in the community for us was someone getting hurt or gang violence," Rogers said, adding that she and her friends didn't really think twice after hearing about another shooting until she went home and saw police cars and a crowd of neighbors at her house, as well as her grandmother crying.
Family members and neighbors had expected great things from Latasha, a mostly straight-A student, Rogers said, recalling that "At a young age, she wanted success in her life. She wanted to become a lawyer and a community leader."
Their mother had died when Rogers was just 3 years old. So, Latasha became more than just a big sister.
"I remember her doing things for me as far as making sure that I was OK, mentally, physically, making sure that my homework was done," said Rogers who credits Latasha with playing a role which inspired her to seriously pursue her education and ultimately earning a Ph.D. in organizational leadership in education.
The pain and outrage over Latasha's death spurred the family into action. Denise Harlins, Latasha's aunt, spearheaded the creation of the Latasha Harlins Justice Committee in 1992, the forerunner of the Latasha Harlins Foundation. The foundation's mission today is to empower change for low-income families in communities like the one where Latasha grew up.
Rogers was just 10 when the riot erupted. Her grandmother kept her at home, but she recalls watching the destruction and looting of retail shops, grocery stores and restaurants on TV news.
"At 10 years old I didn't really internalize the message. It was just like, what is going on? I knew, of course, at that age, it did have something to do with Rodney King and Latasha Harlins. Our community was just fed up," she said.
"Thirty years later, we're fighting for justice through education. We want to ensure that what happened to Latasha doesn't happen to another individual. We're all about healing, and forgiving."
The foundation is also keeping the memory of Latasha alive through an upcoming film and book that Rogers is authoring and expects to release in the spring of 2023. The park where Latasha played as a child was dedicated to her in 2021 to mark the 30th anniversary of her death. A mural of Latasha at the South L.A. park has become an iconic symbol in the community.