'I'm Just Trying To Go Home': Release Of Deadly Beating Video Of Tyre Nichols Sparks Peaceful Protests Around The Nation
Nichols, 29, could be heard calling repeatedly for his mom.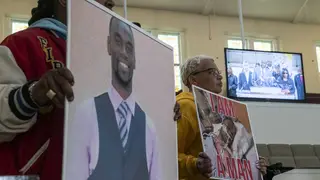 The release of street and police body camera footage on Friday (Jan. 27) of the brutal beating death of Tyre Nichols after a traffic stop in Memphis sparked mostly peaceful protests across the nation.
Fears of possible violence did not materialize Friday after the footage was released, but Nichols' mother, RowVaughn Wells, and stepfather, Rodney Wells, called for peaceful protests. The video riveted the nation as Nichols tried to determine why the officers were attacking him.
"You guys are really doing a lot now," he said at one point. "I'm just trying to go home."
According to NPR, protesters huddled in the downtown area of the city Friday night. The I-55 bridge that hovers over the Mississippi River was taken over by the demonstrators as they shouted, "no justice, no peace" and "justice for Tyre.
Though they took over the bridge for a near 3-hour time period, it was done in peace. Elsewhere, in some cities, the National Guard was called in. Georgia Governor Brian Kemp activated National Guard troops in Downtown Atlanta, but they were not needed as the protests remained peaceful, local news station 11 Alive reports.
The five-ex Memphis officers (Tadarrius Bean, Demetrius Haley, Emmitt Martin III, Desmond Mills Jr and Justin Smith) treated Nichols like a "human piñata," per the Nichols' family attorney. All five have been fired, charged with second-degree murder, assault, and kidnapping.
In New York City, Grand Central Station was shut down in anticipation of the protests. A protest/March in Boston made for some transit delays.
According to the Los Angeles Times, a protest outside of the LAPD headquarters turned sour as it was blocked by police in riot attire. Protesters broke down a barricade that surrounded the building. No arrests were immediately reported.
Washington D.C., Seattle and Detroit were among the other cities where small and mostly peaceful protests surfaced.
During a vigil held on Thursday (Jan. 26) for Nichols, his mother RowVaughn said, "I don't want us burning up cities, tearing up our streets, because that's what my son stood for."