Tyre Nichols' Mother Says Police Beat Him Beyond Possibility Of Survival In Fatal Encounter
In an interview with CNN, the mother of the 29-year-old Black man beaten by five ex-cops described how badly he was assaulted.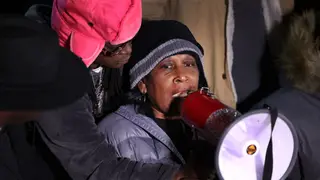 The parents of Tyre Nichols, the 29-year-old Black man who died Jan. 10, three days after being severely beaten by Memphis police officers, said their son was pummeled to the point where if he had not died, he would have been debilitated.

In a Friday morning interview on CNN —preceding the expected release of video footage showing Nichols' fatal encounter with the officers— his mother, RowVaughn Wells, said that she was notified by authorities of his arrest on DUI charges and that he was hospitalized. However, she was not allowed to come to the hospital where he was being treated.

But a doctor asked why she wasn't there; he informed her of the extreme extent of his injuries and that he had experienced cardiac arrest and had failed kidneys.

"This doesn't sound consistent to somebody being tased or pepper sprayed," she told CNN's Don Lemon. "When my husband and I got to the hospital, and I saw my son, he was already gone. They had beat him to a pulp. He had bruises all over him, his head was swollen like a watermelon, his neck was busting because of the swelling, they broke his neck, my son's nose looked like an 'S,' they actually just beat the crap out of him.

"And so, when I saw that, I knew my son was gone then," she continued. "Even if he did live, he would have been a vegetable."

Memphis Police Chief Cerelyn Davis, who has viewed the footage of the incident, called it "failing of basic humanity toward another individual." He had been pulled over for 'reckless driving,' but  in speaking with Lemon on CNN, she said that it was unclear that Nichols had even been pulled over lawfully.

According to authorities, the traffic stop led to a "confrontation" and Nichols fled the scene on foot as he was pursued by officers. Allegedly, another confrontation occurred and he was beaten, only 100 yards away from his mother's home. Nichols was taken into custody and complained of having shortness of breath. He died three days later (Jan. 10) in the hospital.

According to reports, Tadarrius Bean, Demetrius Haley, Emmitt Martin III, Desmond Mills Jr., and Justin Smith were fired from the Memphis Police Department on Jan. 20 after an internal investigation. They were each charged with one count of second-degree murder, aggravated assault-acting in concert, two counts of aggravated kidnapping, two counts of official misconduct, and one count of official oppression. Each of the former officers is African American, as was Nichols.
His stepfather, Rodney Wells, took the photo of Nichols that has circulated on social media, showing him unconscious with multiple bruises and tubes in his mouth.
"I took the picture because he was in such horrific condition; he shouldn't have been in that condition from pepper spray and tasing," said Wells, who has viewed the video, although his wife has not.

Benjamin Crump, the attorney representing the Nichols family, said in a statement released on Jan. 24 that an independent autopsy found that he died of "extensive bleeding caused by a severe beating."

Crump, who has for years represented multiple families of the victims of police violence, remarked to Lemon the expeditious nature of charges being issued to the former officers, in comparison with other cases where it took months for any movement, should be the model for such cases.
"How swiftly they moved they moved in Memphis and how swiftly the district attorney bought charges against these five Black police officers," he explained. "This is now the blueprint for America. When you see officers committing crimes on video, then you can't tell us you've got to go six months; you've got to go a year.

"When it was these Black officers, you saw it move swiftly," he continued. "Think about all the ones we've covered, Don, the Tamir Rices, the Michael Browns, Philando Castile, how these cases took so long for them to charge, but here in Memphis; we have the blueprint that it can be done swiftly and efficiently."

RowVaughn Wells praised the Shelby County (Tenn.) prosecutor Steven Mulroy's office in getting the case to a grand jury, which returned indictments against the former officers. However, she initially wanted first-degree murder charges.
"The charges that were filed against those officers were good charges," she said. "Those are the charges that I feel will stick, and so I'm happy with the charges that the district attorney has set forth."
At a press conference on Thursday (Jan. 26), Mulroy said that each officer played a different role in the fatal incident, but it resulted in Nichols' death, which makes them all responsible.

"We did work quickly to expedite this investigation because of the extraordinary nature of the case," Mulroy said at a press conference on Thursday (Jan. 26). "We worked swiftly but also fairly, and most importantly, in a way calculated to ensure that we have a strong case."

The video is set to be released by the City of Memphis on Friday evening, Mulroy said. The police in Memphis are gearing up for potential unrest after the public release of the video. Davis has compared it to the 1991 beating of Rodney King by officers with the Los Angeles Police Department.

The circulation of that footage led to a year of tension in the area until the city exploded into riots after the officers involved were acquitted. Law enforcement agencies have been placed on high alert anticipating any violence similar to that which followed protests in the wake of the police killings of George Floyd and Breonna Taylor in 2020.

In the meantime, Nichols' family will prepare to bury him. A funeral will be held on Feb. 1 at Memphis' Mississippi Boulevard Christian Church. Rev. Al Sharpton is set to deliver the eulogy. But his mother will continue to grieve as mothers before her have due to police violence affecting African Americans.

"People don't know what those five police officers did to our family, and they really don't know what they did to their own families," RowVaughn Wells said through tears. "They have put their own families in harm's way. They have brought shame to their own families. They've brought shame to the Black community. I feel sorry for them. I really do, I really feel sorry for them."