Video Footage Illustrates Vicious, Extremely Violent Beating Of Tyre Nichols By Memphis Police
A group of policemen are shown in a series of videos kicking, punching and flogging the 29-year-old until he could no longer respond.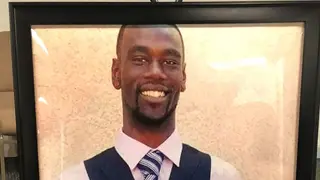 Editor's Note: The following content describes a violent, graphic incident which may disturb some readers.

The City of Memphis released a gruesome, graphically violent video on Friday (Jan. 27) showing the arrest and savage fatal beating of Tyre Nichols at the hands of several of its police officers, five of whom have been arrested and charged in his death.

The video, released in four parts on the city's Vimeo page, shows body cam footage from one of the arresting officers, along with SkyCop footage taken from the area above the site where Nichols was apprehended on Jan. 7.

The first segment shows the officers pulling over the 29-year old Nichols, but it is not clear if there was any infraction or if he was being pursued. Nichols himself appears confused as to why he was asked to stop his vehicle. Officials said earlier he was pulled over for reckless driving, but that is not apparent in the footage.

Viewers next see an officer pulling Nichols out of his car and forcing him to the ground. He seems to be attempting to comply, but the officers continue to attempt to grapple with him. One officer attempts to use a taser to stun Nichols, but he flees into the street. In the following footage, they catch up to Nichols and pepper spray him. One of the officers comes into contact with the spray, needing water poured into his eyes. The officers then use batons and fists to beat Nichols into submission, apparently believing that he is under the influence of drugs or alcohol.
As the video continues, the officers beat Nichols to a point where he cannot coherently respond and can only utter indecipherable grunts. His last words can be heard saying, "mom," "mom," possibly because he was only about 100 feet from where his mother, RowVaughn Wells, lives.

SkyCop video shows the officers beating him as he tried to stand upright, then kicking him while he's still on the ground, unable to even cover his head and get to safety. He is not fighting back, and can no longer struggle. Finally, Nichols is shown sitting on the ground, his body leaning against a police cruiser as he is unable to stay upright and loses consciousness.

At no point during this encounter, which lasted about an hour, did any of these officers attempt to intervene to stop the beating, appear to call for medical assistance or render aid. It is unclear if there is a supervisor, but if one was present none took control of the situation. Afterward, the officers seem to be discussing with each other the moments leading up to the traffic stop, several of them out of breath from the ensuing chase and assault.

The officers eventually called for paramedics and Nichols was later hospitalized. He died three days later on Jan. 10,  unable to survive the injuries sustained from the encounter with the police.
—--------------------------
Benjamin Crump, the attorney representing the Nichols family, said in a statement released on Jan. 24 that an independent autopsy found that he died of "extensive bleeding caused by a severe beating."

Among the first to react to the shocking video was NAACP President Derrick Johnson, who said he was "disturbed and disgusted" by what he saw in the video.

"No person should ever be subjected to such violence, to have to call for their mother as they are being brutalized by police," Johnson said in a statement.  "This video is a stark reminder that in America, on any day of the week, a Black person can be brutally beaten to death less than a hundred feet from his home by those who are supposedly here to 'serve and protect' our communities.

Five officers at the scene of the arrest,  Tadarrius Bean, Demetrius Haley, Emmitt Martin III, Desmond Mills Jr., and Justin Smith were fired from the Memphis Police Department on Jan. 20 after an internal investigation. On Thursday (Jan. 26), they were each charged with one count of second-degree murder, aggravated assault-acting in concert, two counts of aggravated kidnapping, two counts of official misconduct, and one count of official oppression. Each of the former officers is African American, as was Nichols. They were freed on bond Friday (Jan. 27).

Charges against other police personnel have not been filed, but could be pending further investigation, officials with the Tennessee Bureau of Investigations have said.

Memphis Police Chief Cerelyn Davis, who viewed the footage of the incident days prior to its release, called it "failing of basic humanity toward another individual" and compared it to video footage of the 1991 beating of Rodney King by officers with the Los Angeles Police Department.

In anticipation of reaction after the release of the video, Memphis police have geared up with an expectation of protests. Memphis-Shelby County Schools will cancel all after-school activities on Friday. Demonstrators shut down the I-55 bridge and were blocking the entrances on both sides on Friday evening, according to local station WREG. Demonstrations have risen in several cities, but remained peaceful as the night went on.

Earlier Friday, in an interview with CNN's Don Lemon, Wells said a doctor where Nichols was hospitalized informed her of the extreme extent of his injuries and that he had experienced cardiac arrest and kidney failure.
"This doesn't sound consistent to somebody being tased or pepper sprayed," she said. "When my husband and I got to the hospital, and I saw my son, he was already gone. They had beat him to a pulp. He had bruises all over him, his head was swollen like a watermelon, his neck was busting because of the swelling, they broke his neck, my son's nose looked like an 'S,' they actually just beat the crap out of him.
"And so, when I saw that, I knew my son was gone then," she continued. "Even if he did live, he would have been a vegetable."

Crump, who has represented multiple families whose relatives have been the victims of police violence, noted the expeditious nature of the charges being filed against the officers and praised Shelby County Prosecutor Steven Mulroy's office for it.

"How swiftly they moved in Memphis and how swiftly the district attorney brought charges against these five Black police officers," he explained. "This is now the blueprint for America. When you see officers committing crimes on video, then you can't tell us you've got to go six months; you've got to go a year.
"When it was these Black officers, you saw it move swiftly," he continued. "Think about all the ones we've covered…the Tamir Rices, the Michael Browns, Philando Castile, how these cases took so long for them to charge, but here in Memphis; we have the blueprint that it can be done swiftly and efficiently."

Editor's Note: We will continue to update this story.