#Unboxed Vol. 4: Breezy Supreme Is Finally Fitting In Even If That's Not What He Wants
The D.C. native is carrying on his city's Black punk traditions in a manner fitting only him and his band.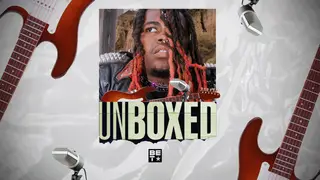 Breezy Supreme is simply one of a kind and finding his talents are aligning at the right time in the present day. But that didn't come after a lot of trial and tribulation.
When speaking about his musical inspiration, the 27-year-old singer and leader of a band that bears his name will cite just as many coming-of-age movies as he does bands like Deftones. Whether it's Accepted, Degrassi Goes Hollywood, or Not Another Teen Movie, whose title he's considering being the inspiration for a forthcoming LP called Not Another Pop Punk Album, Supreme takes on ideas wherever they present themselves.
Growing up between Prince George County and Baltimore, Maryland, some of Breezy's first experiences with live music came from attending go-go shows and events in Washington, D.C. From around the ages of 11 to 16, he immersed himself in the culture and became well-liked by many during the mid-to-late 2000s. But even that turned ominous in a way when things started to shift.
As one of the youngest members of his group of friends at the time, Breezy became a leader of a "Go-Go Group", which he acknowledges was more like a street gang than any sort of ambassador of music.
"It came with so much drama," Breezy Supreme told BET during a recent interview, acknowledging that the excitement of it almost always intertwined with drama. "People would be like, 'Oh, you have something for us to challenge now. Now we want a problem with you.'"
"I don't know where that came from," he adds. "So I ended up fighting a whole bunch of unnecessary battles for no reason. At the time it was what I wanted to do. So I had a lot of fun, but I was definitely in the wrong."
In part, this led to Supreme getting kicked out of high school, causing him to move to Baltimore to finish out his education. The change of scenery, he says, gave him a better focus on studying, leading to him making the honor roll but becoming a lot more lonely in the process.
Walking through the high school hallways, Breezy details how he would have to cover his love of pop, punk, go-go and rock, with the assurance to his peers that he was really listening to hip-hop as he passed them by.
"I was listening to [My Chemical Romance's] The Black Parade album, I had on headphones and somebody had walked past me and I sang a rap song that wasn't in my headphones. It was just so it made it look like I was listening to that song. [After that] I was never doing that again."
At that time, it was a lot more taboo for Black kids to listen to anything other than hip-hop and R&B, which had Supreme often trying to rap in his free time, but never really connecting to it in a creative sense.
Subsequently, he enrolled in a local college where he tried studying music but says he was denied the opportunity to do so due to the fact that he couldn't already read notes and symbols. This relegated him to studying graphic design, which was short-lived because of a lack of interest in the subject mixed with the high price of tuition. That's when Breezy turned his focus back to music and hip-hop.
"I wanted to do full rock but I didn't have the resources. I didn't know anyone who really played any instruments like that so I was just settling for rap and I ended up hating everything that I did with that because I knew it could have been better," he explains. "So I went out of my way to find a band. And once I found the band, I've been pretty much locked in with my sound. Now I could really produce the level of music that I really wanted to do."'
For three years Breezy formulated his band, which would officially come together in 2019 and take his own artist namesake as a full outfit. He says much of their sound inspiration comes from punk bands he loves like Pure Hell, Death, and Bad Brains – whose legacy and importance, ironically, he didn't discover until late in life.
Pure Hell was a pioneering band in the punk rock scene. The band, which was formed in Philadelphia in 1974, was one of the first all-Black punk bands. Their sound was a blend of punk, hard rock, and heavy metal, and their high-energy performances and rebellious lyrics made them a force to be reckoned with. Pure Hell's impact on music was significant, as they paved the way for other Black punk and alternative bands, and helped to break down racial barriers in the punk scene.
Death was formed in Detroit in 1971 and played a unique blend of punk, rock, and funk that was ahead of its time. Death was one of the first punk bands to come out of the United States, and their music had a raw, edgy sound that was unlike anything that had been heard before. Although Death was largely overlooked during their initial run, their music gained a cult following years later and has since been recognized as a groundbreaking influence on punk, garage rock, and other forms of alternative music.
Bad Brains was a hardcore punk band that emerged in the late 1970s. The band, which was formed in Washington D.C., was known for its aggressive, fast-paced music, which combined punk, reggae, and metal. Bad Brains' music was groundbreaking in its use of diverse genres and unconventional song structures, and the band's live shows were known for their intense energy and frenetic pace. Bad Brains had a significant impact on the punk and hardcore scenes, and their influence can still be felt in modern punk and alternative music.
"I will say I molded a lot of what we do behind Bad Brains, but I did come up with the idea that I wanted an all-Black punk band because I wanted people to essentially look at us in the same light because I feel like what we're doing is innovative the same way they did in the '80s," Supreme explains. "They were mixing reggae with super fast tempo hardcore. We're making pop punk/skate punk mixed with the go-go. As far as I'm concerned nobody's done it before."
Now, Breezy is gearing up for his new album, which he notes he hopes to release this summer and to, in some ways, follow a similar formula he's used in his previous work.
"All the songs on there are something I would want to hear in a teen movie," Supreme describes. "It's supposed to be that super nostalgic pop punk. If I knew how I would want to get in shows like Euphoria. I really don't know how. I'm pretty much finished. I'm just getting all the songs mastered at this point and I plan on dropping a song from the album every month or two [before it drops]."
One of those offerings came earlier this week when Breezy Supreme released "TERRORIZE ME", which he described in an Instagram post as being "pop punk from 2005 all over again." It's the beginning of a full-circle moment from the band that formed, in many ways, from just parlaying what they love into musical expression.
"We just really don't care about what people think," he says. "Because my thing is like you're either gonna like it or not. It's not my job to make sure you like it, so I'm just gonna keep doing it."
Check out all of BET's #Unboxed series features here.