Voter Fraud Charges Dropped Against Black Woman In Tallahassee
Marsha Ervin, a 69-year-old Black woman arrested by law enforcement on suspicion of voter fraud.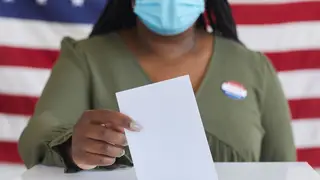 Prosecutors announced that voter fraud charges against a 69-year-old Black woman in Tallahassee, Florida have been dropped, CNN reports.
Marsha Ervin, who was on probation for a prior felony conviction, voted in the 2020 general and 2022 primary elections She was arrested on September 29 by the Tallahassee Police Department. The law enforcement officials said they had a warrant to arrest Ervin after an investigation by the Florida Office of Election Crimes and Security on charges of voter fraud.
On Tuesday (October 17, State Attorney Jack Campbell stated in the official filing that, "There is no witness who can testify to the defendant being told that she was ineligible to vote and some evidence to corroborate her assertions that she believed she could lawfully vote."


According to the report, Ervin's probation status played heavily into Campbell's ruling after the state reviewed documentation probation.
One document that was signed in October 2022 explained that a previous offender could not legally vote while on probation. The other document, which was signed in November 2018, does not contain this wording.
"The voting incidents were between these two dates, and there is no indication that she has voted since being provided this information," Campbell wrote.
Leon County, the supervisor of elections, described Ervin's voting as  "an innocent mistake."
Mutaqee Akbar, one of Ervin's lawyers, expressed his excitement that his client's charges were dropped.
"I was excited for and happy for Ms. Ervin," Akbar said."I don't think she deserved to go through this whole process. I am happy that this part of it is all over for her."
Civil rights and state democratic leadership have noted that Ervin's case highlights the confusion many people with felony convictions face when trying to navigate voting in Florida.
Civil rights attorney Benjamin Crump announced that he was joining Ervin's legal team saying that her arrest was due to "voter intimidation" by local officials.
"For this to happen to her, what it really tells you [is] it can happen to any of us," Crump continued. "This is about instilling fear in people in our community, to say, 'Well, I don't want to get in any trouble, so I'm not going to come and vote.
Akbar noted that this case is a "cautionary tale" to investigators with the Election Crimes and Security Office and their strategy to procure alleged voter fraud.
"I'm hoping that it gives them some pause to look for people who are actually committing fraud by voting twice for dead people, as opposed to innocent people like Miss Ervin," Akbar said.