Vice President Kamala Harris Joins BET News For An Impactful Conversation 'State of Our Union: Reproductive Rights'
Howard University students react to the VP's discussion about the importance of voting and the fight over women's reproductive rights.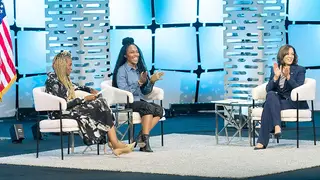 Vice President Kamala Harris returned to her alma mater, Howard University over the weekend to hold a conversation with students and invited community members. Hosted by BET News, the "State of Our Union: Reproductive Rights" the VP was joined by The 19th News's Editor-at-Large Errin Haines and actress DeWanda Wise for for the one-hour-long moderated discussion premiering tonight (Monday, November 7) at 9PM ET/PT on BET, BET HER, MTV2, VH1 and POP. The topics at hand included voting during this year's midterm elections and the importance of protecting women's reproductive rights and access to vital health care services.
Before a packed house at the Cramton Auditorium on Howard's campus, Vice President Harris served up an empowering and impactful message stressing the need for students and all voters to hold elected officials accountable to the commitments made concerning reproductive rights and to continue the important dialogue past Election day.
Evan Barker is a junior at Howard majoring in Mechanical Engineering and minoring in Physics and Mathematics. Barker says the campus was receptive to the Vice President's message especially because there's been a palpable level of activism around voting throughout this election season.
"In terms of women's rights, a lot of people are in dismay right now and feel as if the elected officials shouldn't be the ones making decisions about what should be happening with healthcare and women's bodies," said Barker.
Howard alum, Lindiwe Vilakazi, said VP Harris' message was a welcome one that came at the right time.  Noting the university's long tradition of turning out activists and politicos, many students have taken advantage of early voting or taken the necessary steps to get home to vote on Election Day.
"There have been initiatives to get students to vote wherever is their home," Vilakazi said, "People at Howard are active when it comes to  supporting women's rights and voting rights."
The Biden/Harris Administration has been working to help Democrats maintain control of the House, and perhaps take the lead in an evenly split Senate in which the vice president serves as the tiebreaker vote. The Administration has argued that if Republicans get the opportunity, they'll send doctors to prison for providing abortion care to their patients, and Black women, who have the highest rates of maternal and infant mortality in the country, will face the greatest harm.
Vice President Harris stressed that the president has vowed to federally enshrine the right to abortion, but it will require congressional support. Which means voting this time around is urgent.  President Joe Biden is clearly in agreement with that message. He said after casting his ballot in Delaware "This is not a referendum. It's a choice — a fundamental choice — a choice between two very different visions for the country."
---
For more on the special presentation, watch "State of Our Union: Reproductive Rights" on Monday, November 7 at 9 PM ET/PT on BET, BET Her, MTV2, VH1, and POP.