Death Row Family Wins the Greatest Rap Crew of All Time Tournament!
Dr. Dre, Snoop Dogg, and the Death Row Family defeated the Wu-Tang Clan in the championship to end all championships.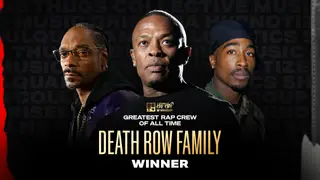 In recognition of hip hop's 50th anniversary, BET Digital, in partnership with Ambrosia For Heads, is celebrating the culture by hosting a bracket-style competition that allows you to determine hip hop's greatest crew.
Rather than having "experts" tell you who is the greatest of all time, this is your opportunity to collectively make that decision. After giving the opportunity to any and all fans to provide feedback on which crews should be included, 32 collectives from different regions, styles, and generations have been selected—all vying for that #1 spot. When the final battle is over, and the last vote is cast, you will have determined who is your Greatest Rap Crew of All Time.
After more than a month of voting and over 30 matchups, that winner has been determined. Voters from around the country have decided The Death Row Family is the Greatest Rap Crew of All Time. The crew, including Dr. Dre, Snoop Dogg, Tupac Shakur, Tha Dogg Pound, Warren G, DJ Quik, The Lady Of Rage, and others, defeated the Wu-Tang Clan crew in the championship round to secure the top position. 
More than 30 years ago, the Death Row Family formed after Dr. Dre, The D.O.C., and others left another crew, N.W.A. & The Family. Dre, a co-founder of World Class Wrecking Crew and N.W.A., was an expert in evolution. By 1992, he had launched a new collective, primarily composed of budding talent—including a lanky MC with a conversational flow, Snoop Dogg Dogg. The D.O.C., one of the top MCs of the late 1980s, joined him as an orchestrator and songwriter following a career-altering automobile accident where his vocal chords were severed.
Snoop was front and center, appearing throughout the album. At the same time, Daz, Kurupt, RBX, Rage, Warren G, and Nate Dogg played key roles in a project that goaded Dre's former crew, soundtracked the angst of post-Rodney King Black Los Angeles, and applied 20-year-old funk elements into a hip hop sonic tapestry that was rooted in the most cutthroat west coast streets. Songs like "Stranded On Death Row," "Lyrical Gangbang," and the vinyl B-side "Puffin' On Blunts & Drankin' Tanqueray" showed that Dre's new crew was more than the company formed by him, Suge Knight, Michael "Harry-O" Harris, Dick Griffey and The D.O.C.; it was a state of mind. 
The movement grouped artists committed to their dreams and each other. They had stories, styles, and attitudes that stood apart from the general rap population, and they would succeed because Death Row was more than a label, it was a way of life.
In the ensuing years, much like with Wu-Tang Clan, individual Death Row crew members beyond Dre and Snoop became stars in their own right. Daz and Kurupt's Tha Dogg Pound became a multi-platinum, chart-topping group. Rage scored a soundtrack hit with "Afro Puffs," and Warren G and Nate Dogg made a smash hit with "Regulate." Warren, who is Dre's half-brother, found his success away from the Death Row record company—but his lineage represented the crew, including key contributions to Snoop's "Doggystyle" debut.
By the mid-1990s, non-homegrown talents joined the movement. Snoop's friendship with Tupac led to soundtrack and movie appearances from Pac. After Shakur's prison sentence, the Thug Life artist joined the Death Row family—working with artists new and old, large and small—and repping the crew as hard as any of its original members. DJ Quik, who joined Dre and Suge as a Compton native, appeared with "The Inmates" at the 1995 Source Awards, and he contributed production, soundtrack singles, and compilation work to the movement. Death Row was topping the charts and the consciousness of rap music between 1992 and 1996.
While the Death Row record company was all but done during the late '90s and 2000s (following the death of Tupac and the incarceration of Suge), the legacy of the family prevailed. Dr. Dre's "Up In Smoke Tour," Snoop's "No Limit Top Dogg," and Tha Pound's "Cali Iz Active" involved the crew and the spirit. As he'd done after leaving N.W.A., Dre brought his cohorts with him—visually and spiritually for "Still D.R.E." and the "2001" album, on his subsequent Aftermath Entertainment label.
Thirty years after the movement launched, Snoop acquired Death Row in 2022, announced just days before he and Dre headlined a Super Bowl Halftime Show alongside Eminem, Kendrick Lamar, Mary J. Blige, and others. Since then, Tha Dogg Pound, Rage, and RBX have stepped forward with their super-group, The Inmatez, Tha Dogg Pound has reportedly returned to release more music, and Dre and Snoop are at work on "Doggystyle's" thematic sequel, "Missionary." Just like in 1992, the Death Row Family is back, and everybody's celebratin'.
Congrats to the winning crew!