Who's The G.O.A.T. Rap Crew? Death Row Family vs TDE | Round 3
In the tournament to decide the greatest rap crew of all time, this Round 3 battle is between two crews that hip hop fans often compare.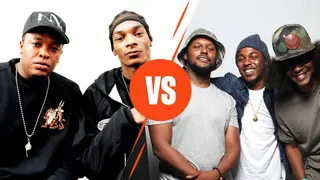 In recognition of hip hop's 50th anniversary, BET Digital, in partnership with Ambrosia For Heads, is celebrating the culture by hosting a bracket-style competition that allows you to determine hip hop's greatest crew.
Rather than having "experts" tell you who is the greatest of all time, this is your opportunity to collectively make that decision. After giving the opportunity to any and all fans to provide feedback on which crews should be included, 32 collectives from different regions, styles, and generations have been selected—all vying for that #1 spot. When the final battle is over and the last vote is cast, you will have determined who is your Greatest Rap Crew of All Time.
In this celebration of hip hop and all of its talented crews, your vote decides the winner.
Who's The G.O.A.T. Rap Crew? Death Row Family vs TDE | Round 3
Two incredible crews battle for regional supremacy in the West Coast bracket. Twenty years apart, TDE has often been compared to the Death Row Family—with Snoop Dogg once proclaiming the more contemporary collective to be "a better version" of the crew he helped brand. Both Death Row and TDE captured the spirit of marginalized communities in and around Los Angeles, Compton, and surrounding areas and made enduring art out of the commentary. Dr. Dre's "The Chronic" and Snoop's "Doggystyle" showed the mainstream the fun, the flavor, and the frantic energy of life in the Cali streets. 
Two decades later, artists like Kendrick Lamar and ScHoolboy Q injected thoughtful neighborhood narratives that showed the depth, range, and suspense of young Black men growing up in cutthroat environments. TDE used these abilities to launch numerous superstar careers, many of which turned around to eagerly work with Death Row alums like Snoop, Kurupt, and others. 
Just as Dre had helped elevate his early 1990s affiliates to stardom, he would dedicate himself to K-Dot on several albums. TDE's engineer, MixedByAli even acquired the Death Row studio, where hits by Tupac, Snoop, and others were made—further connecting these powerful and poignant histories. After besting Hieroglyphics in Round 1, Death Row recently defeated part of its legacy in N.W.A. & The Posse in Round 2. Now, they face a squad they influenced—one who has defeated Odd Future and Sick Wid It to be here. For the wild West, this battle for regional supremacy seems like the ultimate duel. Voters get the final say.
DEATH ROW FAMILY
(Defeated Hieroglyphics in Round 1 and defeated N.W.A. & The Posse in Round 2)
 Between 1992 and 1997, being stranded on Death Row was a great thing. Beyond just a label, Dr. Dre's third crew (after World Class Wreckin' Crew and N.W.A.) offered a clean slate creatively and a breeding ground for ill MCs needing the doctor's treatment. In this space, Dre and his cohorts used the G-Funk sound to take authentic-minded gangsta rap to the mainstream. This ensemble was fresh and distinct. Snoop Doggy Dogg possessed a smooth delivery and a conversational flow, while The Narrator RBX sounded sinister and robotic. The Lady Of Rage exuded confidence on the mic, making her a standout, and Tha Dogg Pound quickly proved themselves as stars far beyond Snoop's affiliates.
This movement also included off-label stars like Dre's half-brother Warren G and DJ Quik. Dre's "The Chronic" was a hot box of ensemble talent, a motif that carried over to "Doggystyle." Songs like "Stranded On Death Row," "Lyrical Gangbang," and the vinyl rarity "Puffin' On Blunts And Drankin' Tanqueray" were domineering posse cuts with artists who brandished their Row affiliation like a fraternity and rapped together with explosive chemistry. Soundtracks offered places for collaboration and fellowship, including with Tupac Shakur, who joined the squad upon his 1995 prison release.
TDE
(Defeated Odd Future in Round 1 and defeated Sick Wid It in Round 2)
Steel sharpened steel in 2011, which marked a watershed moment for the four MCs collectively known as Black Hippy and the emerging TDE brand. Q's "Setbacks," Soul's "Longterm Mentality," K-Dot's "Section.80," and Rock's "Follow Me Home" deliberately featured one another and cracked the consciousness of hip hop fans with excitement.
In the next three years, that bond was upheld as these artists toured together, including as part of BET's Music Matters initiative, added to their collaborations, and scaled their vision up the charts and into the mainstream. Since then, Kendrick has become a Pulitzer-prize-winning artist with 17 Grammy Awards. Jay Rock, also a Grammy winner, has ushered in a new generation of hard-nosed West Coast gangsta rap. Q has topped the charts and shown evolution reflective of his journey. Ab-Soul has closed out 2022 with a comeback campaign and one of the year's best albums. When previously unknown Chattanooga, Tennessee, artist Isaiah Rashad joined the label, he was quickly treated as family.
---
EDITOR's NOTE: Register for the sweepstakes for a chance to win the grand prize of (2) two tickets to the 2023 BET Awards, (2) two round-trip airline tickets, and a 2-night hotel stay on June 25. Up your chances to win by voting weekly.
NO PURCHASE NECESSARY TO ENTER OR WIN. VOID OUTSIDE OF THE 50 U.S. & D.C. AND WHERE PROHIBITED BY LAW. Open to legal residents of the 50 U.S. & D.C. who are 18 years of age or older at the time of entry. Ends at 12:00 p.m. ET on June 9, 2023. Official Rules: bet.com/grcoat-official-rules. Sponsor: Black Entertainment Television.