S.C. Democrats Urge Party's Candidate To Suspend Campaign After Audio Of Her Disparaging White Constituents Surfaces
State Rep. Krystle Matthews is running to unseat Black Republican Sen. Tim Scott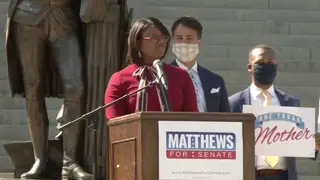 South Carolina Democrats are calling on a fellow Democrat to suspend her U.S. Senate run after an audio recording surfaced of her making disparaging comments about her white constituents.
State Rep. Krystle Matthews, who is Black, won the party's nomination to square off against Black Republican Sen. Tim Scott in the November general election.
Calls for her to drop out of the race came Thursday (Sept. 9) after the conservative activist group Project Veritas published audio of Matthews speaking–without her knowledge–to one of its members, the Associated Press reports.
Matthews is heard saying that she represents a "mostly white" district, adding, of white voters: "I keep them right here — like under my thumbs. ... Otherwise, they get out of control — like kids," according to AP.
"You ought to know who you're dealing with. You've got to treat them like s— [explicative]. That's the only way they'll respect you," she added.
The right-wing organization is known for secretly recording progressives and editing the tapes to discredit their target. Still, Matthews admitted that it was indeed her voice on the recording but described the edited conversation at a restaurant as a "tongue-in-cheek" exchange that doesn't paint a full picture of the discussion.
In a separate Project Veritas recording released earlier this year, Matthews was recorded on a phone call with a South Carolina inmate in which she mentions using drug money to support her campaign, South Carolina's The State newspaper reported.
On Thursday, fellow South Carolina Democrats, state Rep. Justin Bamberg and gubernatorial candidate Joe Cunningham, called on Matthews to resign.
"If any of our white counterparts had said the same thing with regards to blacks, the minority community, including myself, would be up in arms calling for that member's immediate resignation," AP quoted Bamberg's reaction to the newly released audio.
In a statement provided to AP, Cunningham said that "there is absolutely no place in our political discourse" for Matthews' comments, adding that "the Democratic Party cannot and should not tolerate such behavior from our elected officials and candidates."
According to The State, Matthews has no plans to resign or suspend her campaign. She demanded Project Veritas release the entire recording.
"Regardless of race, I love everyone. One thing you can learn from Project Veritas's first audio attack on me, is obviously I have no biases toward a certain ethnic group," the newspaper quotes Matthews' statement. "I expressed my disgust for Black legislators who exhibit the same hypocrisy as MAGA (Make America Great Again) Republicans."