Attorneys For Living Tulsa Survivors Appeal Dismissed Reparations Case
They've been waiting 102 years for justice, a lawyer for the three race riot victims says.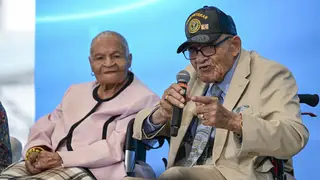 Attorneys representing the three known living survivors of the infamous 1921 Tulsa Race Massacre, each of them more than 100 years old, filed an appeal Friday (Aug. 4) asking the Oklahoma Supreme Court to reverse a trial judge's decision to dismiss their reparations case.
"For 102 years... they've been waiting. They've been waiting, just like every other victim and survivor of the massacre, for just an opportunity to have their day in court," their lawyer. Damario Solomon-Simmons, said at a Monday (Aug. 7) press conference on the steps of the Oklahoma Supreme Court building, according to the Associated Press.
The plaintiffs sued Tulsa and other defendants for compensation from a White mob's destruction of homes and looting of businesses in the city's once-prosperous Black community of Greenwood, dubbed "Black Wall Street." Historians believe up to 300 people died in the attack.
Solomon-Simmons argues for damages under Oklahoma's public nuisance law and seeks compensation "for unjust enrichment" that others gained from the massacre, according to CNN.
But Tulsa asked Oklahoma District Court Judge Caroline Wall to dismiss the lawsuit, partly because "simply being connected to a historical event does not provide a person with unlimited rights to seek compensation from any project in any way related to that historical event."
In July, Wall sided with Tula, throwing out the lawsuit with prejudice, meaning that the plaintiffs are barred from bringing the suit back to court.
The massacre survivors who filed the lawsuit are Lessie Benningfield Randle, 108, Viola Fletcher, 109, and her brother, Hughes Van Ellis, 102.