Lupita Nyong'o Says She Knew She 'Was Going to Be a Meme' After Will Smith's Oscars Slap
'The Black Panther' actress was seated behind Will Smith and Jada Pinkett Smith when cameras captured her reaction to Will slapping Chris Rock.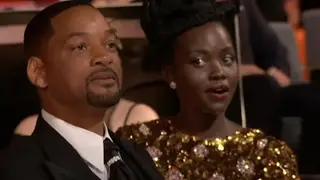 In an interview with The Hollywood Reporter, the Black Panther: Wakanda Forever actress looked back at the controversial slap, where Smith walked onstage to slap Rock, after the comedian made a joke about the actor's wife Jada Pinkett Smith at the March 2022 ceremony.
Nyong'o, who was seated directly behind the couple in the audience, was captured by cameras in shock with her mouth open reacting to Will Smith sitting back down after he slapped Rock.
"I knew as soon as it was over that I was going to be a meme," she said.
"Once the moment was over, I realized, 'Oh my God, there's no way all this transpired and I'm not in the shot,' " Nyong'o told THR after being asked what seeing the incident unfold in person was like. "I don't want to add any more fuel to that thing, quite frankly."
Will later won in the Best Actor category for his portrayal as Richard Williams, Venus and Serena Williams' father, in the film King Richard. The Oscar-winning actor has since apologized to Rock and resigned from the Academy of Motion Pictures Arts and Sciences.
He was also banned from attending any of its events for the next 10 years.