California Reparations Proposal Moves To Governor, State Legislature For Consideration
The task force proposes billions in a mix of cash payments and benefits to compensate Black Californians for the legacy of slavery.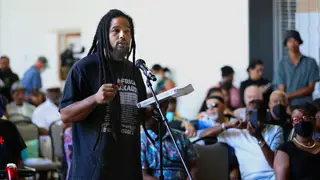 It recommends a mix of cash payments and other benefits, including housing, education and health care, to compensate qualified Black Californians for generations of government sanctioned racial discrimination. If approved, California would have created a roadmap for other states and the federal government to follow in a highly divisive issue.
For two years, the task force considered testimony – ranging from historians and economists to community activists – to reach this point.
According to the Associated Press, the panel's report endorsed an economic formula to calculate the amount of compensation but not a fixed dollar amount. The initial estimated price tag was more than $800 billion, a figure that's more than 2.5 times California's annual budget. But a revised figure reduced the potential reparation cost to $500 billion, still a significant amount at a time when California has a budget deficit.
"This state has committed a crime against Black folks, and it's time for them to pay. Deficits don't last always," Rev. Amos C. Brown, a civil rights activist and vice-chair of the task force, said about the state's projected $31.5 billion budget deficit, the AP reported.
Still, most Californians oppose reparations even though they believe racial discrimination and the legacy of slavery negatively impacts the lives of Black people, according to a recent study from the Public Policy Institute of California, a nonpartisan think tank.
About 70 percent of those surveyed said racial and ethnic discrimination contribute to economic inequality (32 percent say a great deal, 39 percent say a fair amount). And 53 percent said the legacy of slavery affects the position of Black people in American society today (23 percent a great deal, 30 percent a fair amount).
But less than half of them – 43 percent – said they support having a state task force seek reparations.
Newsom, who signed legislation in 2020 to create the task force, said Thursday (June 29) that he had not read the report yet. But in his remarks in May on the preliminary report, the governor underscored that reparations for the legacy of slavery isn't just about cash payments.
"Many of the recommendations put forward by the Task Force are critical action items we've already been hard at work addressing: breaking down barriers to vote, bolstering resources to address hate, enacting sweeping law enforcement and justice reforms to build trust and safety, strengthening economic mobility — all while investing billions to root out disparities and improve equity in housing, education, healthcare, and well beyond," Newsom said in a statement to station KCRA.