Digital Underground Rapper Shock G's Cause Of Death Revealed
The rapper died on April 22.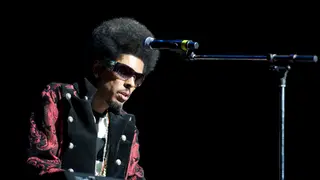 It's been nearly two months since Digital Underground rapper Shock G was found dead in a hotel in Tampa, Florida, on April 22. 
Now, the Hillsborough County Medical Examiner's office is sharing the initial summary of their autopsy. On Thursday (June 10), it was reported that Shock G died from combined toxic effects of fentanyl, ethanol, and methamphetamine, ET Online reports. He was 57.
Digital Underground co-founder Chopmaster J first broke the news of the rapper's death on Instagram Thursday (April 22). 
"34 years ago almost to the day we had a wild idea we can be a hip hop band and take on the world through it all the dream became a reality and the reality became a nightmare for some," J captioned under a picture of the two of them decades ago. "And now he's awaken from the fame long live shock G Aka Humpty Hump and Rest In Peace my Brotha Greg Jacobs!!! #digitalunderground."
TMZ reports his father, Edward Racker, says Shock — born Greg Jacobs — was found dead Thursday in a hotel room in Tampa.
He was a rapper and keyboardist for Digital Underground, a pioneering Hip Hop group responsible for a number of influential singles, including the group's groundbreaking hit "The Humpty Dance." He was also known as his alter ego, Humpty Hump.
Shock G also worked with artists like Prince, Monie Love, Dr. Dre, Money B, Raw Fusion, Luniz, Mac Mall, Murs, KRS-One, and more.
The rapper-producer's friends and family came together at the Allen Temple A.M.E. Church in Tampa, Florida, on Saturday (May 1) for an intimate ceremony where he was laid to rest. The service was streamed live, according to the church's Facebook page. 
Busta Rhymes, Jermaine Dupri, and CeeLo Green, were a few of the celeb guests in attendance, WFLA Channel 8 reports. Members of Digital Underground also made appearances on the live stream of the service to offer their condolences. 
"His legacy was how he loved people unconditionally," said Reverend Doctor Alesia Ford-Burse during the service. "He loved to a default."