5 Scholarship Opportunities For Black Male Teachers Whose Positive Influence Is Underrepresented In Classrooms
Just a small percent of teachers are Black men, but studies show they have significantly positive impact in classrooms.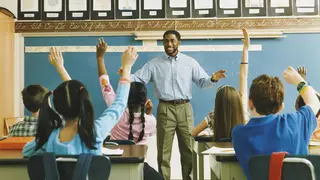 Nearly 70 percent of Black people said in a recent poll that they would not have achieved their professional success without the influence of a specific teacher, according to results of a Box Tops for Education survey shared with BET.com.
YouGov conducted the survey of 1,114 adults in April, which also found that over half (58 percent) of Black respondents had teachers who helped them get through a challenging time in their life.
Those findings add more evidence of the urgent need to train and retain more Black teachers in K-12 schools – especially Black men who represent a miniscule percentage of educators across the nation.
Black teachers, in particular, make a significant difference in the academic success of Black students. A Johns Hopkins University and American University study published in 2018 found that Black students who had just one Black teacher by third grade were 13 percent more likely to enroll in college, and those who had two Black teachers were 32 percent more likely.
But roughly 80 percent of public school teachers identify as non-Hispanic Whites, while Blacks accounted for just 7 percent of teachers at a time when the student population becomes more racially and ethnically diverse, the Pew Research Center reported, based on data from the National Center for Education Statistics in the 2017-2018 school year.
Researchers say that young students who have the same race teacher develop better learning and problem solving skills, with the effects most evident among Black and Latino children. What's more, Black male teachers serve as role models for their students.
Some of the hurdles to recruiting and retaining more Black male teachers are low salaries and racial bias in school systems.
An Education Week report blames part of the problem on the "unwelcoming" environment of schools where Black teachers are "pigeonholed" to serve in disciplinarian roles, assigned to teach low-performing students and concentrated at schools in high-poverty communities without proper resources.
Several Black teacher advocacy groups are working toward increasing the presence of Black male teachers. Black Men Teach (BMT), a Minnesota-based organization that recruits Black male teachers, has partnered with Box Tops to do just that.
Here are five scholarships, support and mentorship opportunities for Black men interested in pursuing an education degree.
Call Me MISTER Teacher Recruitment
The mission of Clemson University's Call Me MISTER (acronym for Mentors Instructing Students Toward Effective Role Models) Initiative is to increase teacher diversity among South Carolina's lowest performing elementary schools.
Tuition assistance through loan forgiveness programs for admitted students pursuing approved programs of study in teacher education at participating colleges.
An academic support system to help assure their success.
A cohort system for social and cultural support.
Assistance with job placement.
The Black Educators Initiative was launched in 2020 as an extension of Urban Teachers' flagship teacher development program. It provides  financial and programmatic support for current and aspiring Black educators. Through this fellowship, eligible applicants qualify for a minimum of $4,000 (and up to $5,000) in grant funds and a minimum of $20,000 (up to $25,000) in direct tuition payments to American University.
Modern Classrooms Project
To support Black male educators in their vital roles in American schools,The Modern Classrooms Project launched a scholarship program to empower a cohort of Black male educators in its Virtual Mentorship Program.
Each selected scholar will receive:
Comprehensive training in our researched-backed instructional model,
Detailed feedback on teaching materials and one-on-one coaching with an expert Modern Classrooms teacher mentor
A $400 technology stipend and premium subscriptions to ed tech tools we find most helpful in building instructional videos
Eligibility for graduate credits, continuing education units, and micro-credentials
Black Educators Promise Grant
Teach for America launched Black Educators Promise, a five-year grant for retaining Black educators teaching in its network beyond their two-year commitment. The organization provides direct-to-participant BEP Grants, awarding $600 to each Black incoming TFA corps member and $1000 to 2nd-year corps members who commit to teaching a 3rd year in a predominantly low-income school.
National Center for Teacher Residency
NCTR's Black Educators Initiative launched in September 2019 after receiving a five-year, $20-million grant to recruit, develop, and retain 750 new Black teachers. Through the initiative, It provides scholarships, stipends, and other incentive funds to support Black residents' full participation in essential clinical experiences, among other benefits.
Check scholarships for deadlines and changes in application procedures or requirements.