Laila Ali Shares How She Got Her Bikini Body Post Pregnancy
"It's time to show people what I'm working with."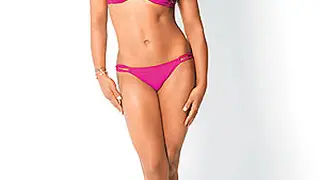 (Photo: People Magazine, May 2013)

Laila Ali is showing off her toned physique in this week's issue of People magazine in her first-ever bikini photo shoot and shares how she slimmed down after giving birth to her second child in 2011. The 35-year-old retired boxer said it was easier the second time around because she knew she just needed to eat healthy and exercise.
"I'm naturally a big girl," Ali explains. "I have to work to be fit. I love running. I run three times a week and I do strength training and weights. And sometimes I throw a little spinning in there."
Ali's diet consists mostly of lean proteins and vegetables, but she allows herself to cheat with pizza or sweets from time to time. She also noted that her workouts serve as personal time that she dedicates to her well-being. As for the bikini shoot, Ali said she wanted to show off what hard work can accomplish.
"I'm kind of shy, I'm not one of those people who's comfortable walking around with my butt out. But I had a baby, I got my weight down and I'm always talking about fitness and health. It's time to show people what I'm working with."
Get ready for the BET Experience, featuring Beyoncé, Snoop Lion, Erykah Badu, Kendrick Lamar and many more. Go here for more details and info on how to buy tickets. Register now to attend free film screenings, celebrity basketball games and more.
BET.com always gives you the latest fashion and beauty trends, tips and news. We are committed to bringing you the best of Black lifestyle and celebrity culture.
Click here to subscribe to our newsletter.