Black Conservative Behind Florida Black History Curriculum Responds To Kamala Harris' Criticism
There is an agenda to 'replace history with lies,' the vice president says.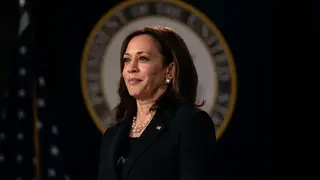 Conservatives are defending Florida's controversial new Black History education standards that were adopted July 19 that opponents say is another attempt to whitewash America's racist history.
William B. Allen, a conservative Black political scientist who served on Florida's African American History Standards Workgroup, appeared Tuesday (July 25) on The Megyn Kelly Show to defend the curriculum. The conservative talk show host asked Allen for his reaction to "the political left's" backlash – particularly Vice President Kamala Harris' comments.
Among the many criticisms of the new teaching standards, the requirement to teach K-12 public school students that slaves learned skills that "could be applied for their personal benefit" has garnered attention.
According to Kelly, and many other conservatives, teaching that slaves benefited personally from their forced labor is a fact of history – ignoring the inhumanity and horrors of chattel slavery. Kelly said it's not controversial to teach "how slaves develop skills" like painting, carpentry and blacksmithing that "could be applied for their personal benefit."
The new teaching standards "replace history with lies," Harris said Friday (July 21) at a speaking engagement in downtown Jacksonville, Fla., The Florida Times-Union reported. She added, "I do believe this is not only about the state of Florida. There is a national agenda afoot."
Allen told Kelly that Harris was speaking from a script and not spontaneously. "And the script is that she has to reject what is common sense in the name of an ideological agenda. It's as simple as that," said Allen, a professor emeritus at Michigan State University.
"So, my reaction is straightforward and I think this would be true for anyone who participated in this process, namely that Booker T. Washington titled his autobiography Up From Slavery, that is historic not our story. He told it," Allen said.
"Frederick Douglass told the story of the mistress of his slave master teaching him to read, beginning that until she was shut down by the slave master. She pulled back the curtain just a bit so a beam of light shone through. That was enough for him to take that beam and turn it, through his own efforts, into a flame of illumination that benefited him and his country."
He added, "Lie? No. The lie is that we should make up a story about them, rather than listening to the stories they told on their own authority."
The backlash over the new teaching standards is part of a larger grievance against a series of policies enacted by Florida Republican Gov. Ron DeSantis and the state's GOP-controlled legislature to rewrite Black History.
These two moves align with rules he pushed through the GOP-controlled legislature, including  his  Stop W.O.K.E. Act that bans lessons in K-12 classrooms and colleges that could make (White) students feel guilty for racial oppression and prohibits topics like White privilege.