Whitney Houston's Estate To Release Long-Awaited Gospel Album
Feb. 11, 2023, marks 11 years since the tragic passing of the legendary singer.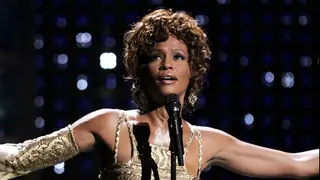 Whitney Houston's estate is set to release a long-awaited gospel project by the late singer that encapsulates the roots of the artist in I Go to the Rock: The Gospel Music of Whitney Houston.
According to an official press release obtained by BET.com, the album, which is now available for preorder, includes gospel songs from the soundtracks of Houston's films The Preacher's Wife, Sparkle, and The Bodyguard. The album will also have previously unreleased music, including a live VH1 Honors version of Simon & Garfunkel's "Bridge Over Troubled Water," as well as "I Found a Wonderful Way" and "He Can Use Me."
The project's first single, "Testimony," was released on Thursday (Feb. 9).
I Go to the Rock: The Gospel Music of Whitney Houston will also release a documentary TV special that will air on multiple TV networks, including Uptv and Aspire TV, on Friday (Mar. 24) at 8 p.m. ET. The documentary will be hosted by CeCe Winans and explore how Houston expressed her faith through music.
It will also "take viewers on a journey from her first-ever performance in front of an audience to her many breathtaking appearances performing gospel songs through 1996's The Preacher's Wife soundtrack, the best-selling gospel album of all time. Select standouts on this visual treasure include unforgettable performances at the NAACP Image Awards, at the American Music Awards, and at Ebony's 50th Anniversary TV special," the press release notes.
"I Go to the Rock: The Gospel Music of Whitney Houston is a testament of Whitney's heart," stated Pat Houston, Executor of the Estate of Whitney E. Houston. "Her love for gospel music permeates through every song with love, compassion and conviction. To love Whitney is to love what she represents to all that love the gospel. I salute this project knowing that Whitney always stood on a solid rock for her love of gospel music. I hope you enjoy this amazing project that was simply a labor of love for all involved."
I Go to the Rock is the first album released by the singer posthumously and adds to the seven solo albums she released between 1985 and 2009. Her accolades also include six Grammy award wins and a Primetime Emmy Award win.
Feb. 11, 2023, will mark 11 years since Whitney Houston tragically passed away. Houston's death was ruled as an accidental drowning with contributing factors of heart disease and cocaine use, according to the 42-page coroner's report. She was 48 years old.