Calif. Gov. Newsom Wants To Transfer Officer Misconduct Disclosures To Local Police Departments
Criminal justice advocates say the move signals a backward step in law enforcement transparency and accountability.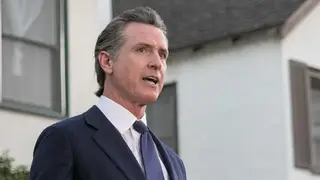 California Gov. Gavin Newsom's proposal to shift the responsibility of disclosing police misconduct to local law enforcement agencies faced pushback from a coalition of criminal justice and press freedom groups, the Associated Press reports.
The law enforcement transparency law, which Newsom signed in 2021, allows the state Commission on Peace Officer Standards and Training to probe alleged police misconduct and to decertify officers for abuses, including the use of excessive force, sexual assault and dishonesty. Under the law, the commission releases information about its findings to the public.
Newsom's office said transferring the public disclosure portion of the law to local agencies is a cost-saving move to help manage California's estimated $31.5 billion budget deficit. But neither the governor's office nor the commission shared with the AP how much money the move would save.
The coalition of more than 20 groups, including the American Civil Liberties Union, views Newsom's proposal as a step backwards after advocating for the disclosure rules for a number of years. They've said local police departments often block their efforts to obtain information about officer misconduct.
"To say, 'go to the very people who commit the crimes against your community and ask them to reveal themselves to you so that you can hold them accountable,' I don't think that's a fair process," Antioch Mayor Pro Tem Tamisha Torres-Walker told the AP.
Several states have adopted rules that require a state agency to release public information about police misconduct and decertification. Tennessee's law enforcement transparency law enabled the public to find out details about the officers involved in the Memphis police fatal beating of Black motorist Tyre Nichols in January. Those details were not previously made public by the local police department.