J.Cole Attends Fan's College Graduation, Keeps His Promise
The Dreamville founder has remained in contact with Cierra Bosarge and attended her high school graduation years ago!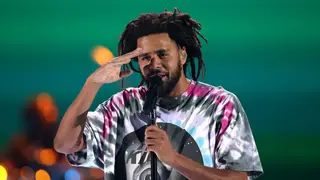 Grammy Award-winning rapper J.Cole proved yet again that he is a man of his word after keeping his promise that he would attend one of his fans' college graduation ceremony!
According to a now-viral tweet by Class of 2022 Rowan University graduate Cierra Bosarge, Cole was spotted at the longtime fan's graduation after meeting nearly 10 years ago.
In an interview with Complex, Bosarge shared that she first spoke to the "KOD" artist back in 2013 after calling into a radio station requesting her dream for the artist to wish her a happy birthday. Three months later, the then-high school student received a surprise phone call from Cole who also invited her to meet him in person.
The pair soon connected in real life in Philadelphia where she delivered a handwritten letter to her favorite artist.
"In the letter it says all I went through," Bosarge explained at the time. "With being adopted, my parents being hooked on drugs, in and out of prison. At the time both parents were in prison so I asked him could he come to my graduation since they can't."
This isn't the first time that Cole has publicly supported Bosarge, he promised the teen that he would attend her high school graduation if she got accepted into a four-year university (and of course she did!). The Dreamville founder fulfilled his promise two years later and was present for that ceremony when she walked the stage.
While it wasn't a part of his initial promise, Cole also flew out to Bosarge's graduation ceremony at Rowan University in New Jersey as well!
Cole's manager and Dreamville co-founder Ibrahim Hamad also took a moment to head to his Twitter to congratulate the college grad too.